ISU music professor earns recognition
October 24, 2006
ISU Marketing and Communications
Dr. Thom Hasenpflug, Idaho State University assistant professor of music and director of percussion studies, is continuing to position himself at the national forefront of percussion performance, composition and education.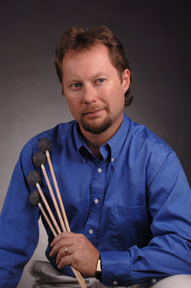 He has recently completed a commission for a major new marimba work, "All Times Identical to Recent Years." It was premiered over the summer by internationally recognized marimbist Thomas A. Burritt at the Leigh Howard Stevens Seminar, and recorded by Burritt this summer. The CD will be released in November on the "Go Fish" label. "All Times Identical to Recent Years" also will be featured in performance at the 2006 Percussive Arts Society International Convention with Burritt as soloist.
Hasenpflug has in addition completed work on a major commission by the University of Texas for large percussion ensemble (16 players) titled "Euonymus Alatus." This aggressive work also will receive its world premier in November at the Percussive Arts Society International Convention in Austin, Texas. Hasenpflug has just completed a three-day residency at the University of Texas in order to prepare for this event, in addition to providing a master class and clinic.
Publication is pending for both of the above new pieces, with C. Alan Publications currently having agreed to publish Euonymus. A third piece previously written, titled "Corps-tet for four snare drummers," is also being played at the convention on the Thursday literature session.
Locally, ISU's music faculty ensemble, Trio Lyrique, has charged Hasenpflug with the creation of a new trio for Soprano, Clarinet, and Piano. The new work is titled "Three Private Wars," and sets three similar reflections of poet Greg Nicholl for chamber ensemble. This work will be presented at a faculty recital in February, and is being designed for eventual international premiere at the International Clarinet Conference in Vancouver.
This month Hasenpflug travels to Malad to be the featured clinician for the District V Percussion Festival, which serves high school students from all over southeastern Idaho. Also, he has been selected as a primary performer/clinician at the 2007 Percussive Arts Society Idaho chapter Day of Percussion, to be held in Boise in March. He was a secondary performer for this same festival last year. He had also recently acted as a performer/clinician in March at the University of Nevada at Las Vegas.
---
Categories: