ISU IRI director Schou to speak at three Pacific Rim countries
November 15, 2006
ISU Marketing and Communications
While most of his colleagues and students at Idaho State University will be relaxing during the Thanksgiving break, ISU Informatics Research Institute director Dr. Corey Schou will be on a whirlwind speaking tour giving lectures in three different Pacific Rim/Asian countries in four days.
Schou has been invited to discuss worldwide workforce issues in information assurance and computer security with several universities, professional societies and governments. Information assurance is "the technical and managerial measures designed to ensure the confidentiality, possession or control, integrity, authenticity, availability and utility of information and information systems."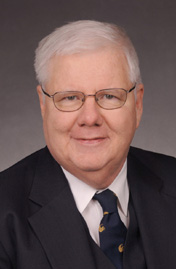 Schou will be speaking in three separate meetings to Korean government officials, computer security professionals and fellow academicians on the workforce needed to support the defense of critical information infrastructure worldwide.
During the following two days, he will travel to Singapore to meet with faculty from Singapore Management University and the National University of Singapore about curriculum development and sharing to support computer security professionals.
To end the trip, Schou will meet with senior officials from Ministry of Science, Technology and Innovation, in Kuala Lumpur, Malaysia. This is a continuation of his outreach to Malaysia when he was the keynote speaker for the SecureMalaysia conference in July. He will coordinate the development of training opportunities with National ICT Security and Emergency Response Centre (NISER) and the newly formed Malaysian CERT.
Schou is an internationally recognized expert on computer security and information assurance. He shares his research and teaching with both European and Asian organizations through both government and professional societies. He is responsible for designing and maintaining an instructional materials clearing house for the Asia Pacific Economic Cooperation (APEC) that helps hundreds of individuals each week.
---
Categories: