ISU Facilities Services garners national environmental award
October 31, 2006
ISU Marketing and Communications
Environmental Support Solutions, Inc. (ESS) has awarded a 2006 Excellence Award in Environmental Management to Idaho State University Facilities Services management team.
The ESS Excellence Award was one of only 18 awarded nationally overall, and only one of 11 awarded nationally in the Environmental Management category. Furthermore, only three were awarded in the Refrigerant Compliance category and only one other university received an ESS Excellence Award. Winners of the ESS Excellence Award were honored during the Awards Gala, which was attended by Anna Weskerna in October in Tempe AZ.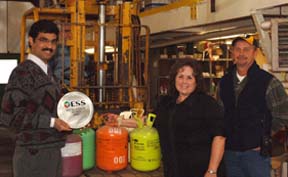 The ISU refrigerant team is comprised of Syed Hashim, environmental specialist and the project manager; Darrell Buffaloe, associate vice president of facilities services and project advisor; Weskerna, management assistant and project document manager; Rodney Chlarson, mechanical systems supervisor and responsible for the HVAC technicians and equipment data collection; and Roy Viles, storekeeper and responsible for refrigerant inventory management.
The team implemented a refrigerant management program that ensures the University is complying with Environmental Protection Agency's Clean Air Act regulations. Refrigerant is used in many of the University's air-conditioning systems, and is a source of greenhouse gases, which impacts the stratospheric ozone depletion and global warming.

"By performing preventive maintenance, monitoring equipment leak rates and reviewing equipment maintenance histories in a timely manner, we have been able to prevent pollution," Hashim said. "This environmental award brings ISU into the national spotlight. Our goal is to highlight ISU's pollution prevention activities and be a model for other universities."
Hashim drafted and implemented a refrigerant policy, with the objective of streamlining the refrigerant appliance and operations data processing to comply with emissions and federal codes. The new policy requires that all refrigerant has to be purchased and dispensed by the University Stores department. All refrigerant usage has to be accounted for by the HVAC department. And all data management, using a newly purchased software system, is the responsibility of Hashim. HVAC technicians are professionally certified to perform preventive and regular maintenance on mechanical systems. Some members of the team have attended ESS refrigerant compliance training sessions.
With the help of this and other programs, ISU is in compliance with all federal environmental regulations.
---
Categories: