ISU engineering honor society inducts new members
November 16, 2006
ISU Marketing and Communications
The Idaho Beta Chapter of Tau Beta Pi, the national engineering honor society in the ISU College of Engineering, has inducted eight new members this fall.
The inductees include one senior and five juniors: Eric V. Rawlins, Pocatello; Jason P. Andrus, Chubbuck; Jeffrey D. Molitor, Pocatello; Teddy Sedalor, Accra, Ghana; Chase N. Taylor, Pocatello; and Tyler J. White, Pocatello. In addition, assistant professors of engineering Dr. Dan Tappan and Dr. Steve Chiu were initiated as Eminent Engineers.
As a prerequisite to their initiation, student honorees performed several service projects.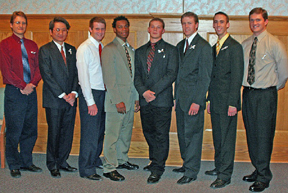 • Taylor helped a young couple who had recently had a baby, and also volunteered at a second-hand store with incoming donations.
• Molitor participated in the "service Saturday project" by helping to unload, move, and reload a shed full of donated items at St. Vincent De Paul.
• White helped with the ISU LDS Institute Halloween Party, prepared a Halloween party for a fifth-grade classroom, and helped set up a football team dinner at Highland High School.
• Sedalor, helped with a book drive organized by the African Awareness Club where the money generated was sent to less fortunate kids around the world.
• Andrus spent several hours preparing and implementing activities for the Latter-Day Saint Student Association.
Tappan obtained his doctorate in computer science from New Mexico State University. Tappan's research interests include artificial intelligence, knowledge representation and commonsense reasoning; intelligent agents and systems, modeling and simulation; natural language processing, machine translation and computational linguistics; cognitive science; and engineering and science education.
Chiu obtained his doctorate in electrical and computer engineering from Northwestern University. Chiu's research interest encompasses parallel and distributed computing, grid computing, I/O performance, modeling and analysis, active storage design for databases and knowledge discovery, embedded systems, computer graphics and scientific computing.
The student membership requirement includes a grade-point average in the top eighth of the junior class or top fifth of the senior class. According to the Tau Beta Pi eligibility code, "Distinguished scholarship, while the primary requisite for admission, must not be considered the sole criterion. After the scholastic requirements have been fulfilled, the selection shall be based on integrity, breadth of interest both inside and outside of engineering, adaptability, and unselfish activity."
---
Categories: