ISU choirs to sing Dec. 1
November 21, 2006
ISU Marketing and Communications
The Idaho State University Choirs will present a Holiday Choral Concert at 7:30 p.m. Friday, Dec. 1, in the Joseph C. and Cheryl H. Jensen Grand Concert Hall in the L.E. and Thelma E. Stephens Performing Arts Center.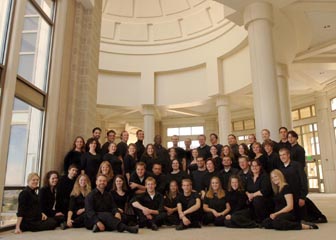 Dr. Scott E. Anderson, director of choral activities, will conduct the ISU Chamber Choir and ISU Concert Choir, while professor Kathleen Lane will conduct the ISU Women's Choir. The three University choral groups will perform a wide variety of seasonal choral works in the acoustically outstanding Jensen Grand Concert Hall.
The ISU Women's Choir will begin the concert with a medieval chant by the visionary and mystic Hildigard von Bingen (1098-1179). The choir will also celebrate the season of Chanukah with the Hebrew folk melody "Nun Gimel Hei Shin" arranged by Judith Shatkin. Two selections from the famous "Ceremony of Carols" by Benjamin Britten, accompanied by Carol Hotrum on the piano, conclude the Women's Choir program.
American composer Stephen Paulus' "Three Nativity Carols" will be the centerpiece of the program presented by the 24-voice ISU Chamber Choir. The contemporary carol arrangements of ancient texts feature harpist Laurie Orr and Susan Hughes, oboe. The Chamber Choir also will present a double-choir motet by Renaissance composer Peter Philips entitled "Hodie nobis de coelo, Francis Poulenc's Quem vidistis pastores," and two Brahms vocal quartets from "Op. 112, Sehnsucht, and Nächtens" featuring pianist Abbi Clark.
Anderson also will conduct the 50-voice ISU Concert Choir in performing "Exceeding Glad," from the Coronation Anthem "The King Shall Rejoice," by George Fredric Handel. The Concert Choir will sing seasonal arrangements, including Hugo Distler's setting of "Lo, How a Rose 'Ere Blooming"; "What Sweeter Music," by John Rutter; and John Gardiner's arrangement of "Tomorrow Shall Be My Dancing Day." The ISU combined choirs will perform a double-choir setting of "Angels We Have Heard On High" to end the concert.
Tickets prices for the ISU Holiday Choral Concert are: $5 for adults, $2 for precollege students, $3 for ISU faculty and staff, and free for ISU students with valid Bengal cards. Tickets can be purchased at the Stephens Performing Arts Center Box Office from 10 a.m. to 4:30 p.m. weekdays or an hour before the shows open. Tickets can be purchased over the phone by calling 282-3595.
---
Categories: