ISU celebrates 2006 GIS Day on Nov. 15
October 27, 2006
ISU Marketing and Communications
The latest geographic information systems (GIS) and global positioning systems (GPS) technology will be demonstrated at Idaho State University's 2006 World GIS Day celebration Nov. 15.
A GIS Day open house at the ISU Geographic Information Systems Training and Research Center (GIS TReC) in the Pond Student Union Building Little Wood River Room will be from 9 a.m. to 4 p.m. All activities are free and open to the public.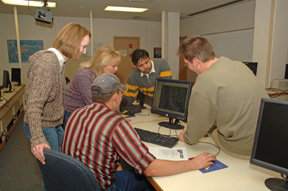 World GIS Day is a global event where GIS technology users educate children and adults about how geography makes a difference in our lives through GIS technology, and demonstrate the technology around the world. GIS is a sophisticated set of software tools that integrates global positioning systems (GPS) and satellite imagery with other layers of data to perform spatial analysis. Applications include wildfire modeling, habitat analysis, 911 emergency routing, city planning, public health, and business marketing. At 10 a.m., Ryan Pierson of Electronic Data Solutions and Bryant Ralston of world GIS software leader ESRI will demonstrate new technologies.
"Ryan will show us the latest and greatest in GPS, which are becoming more sophisticated, more accurate and smaller. Some receivers are as small as a jump drive (1/2 inch by 2-inch rectangle) and are capable of connecting to a digital camera to record the location of your photos," says Keith T. Weber, ISU's GIS director.
"Ryan will also talk about big changes in location technologies, including the integration of several satellite systems like the U.S. GPS, the Russian GLONASS system and the European Galileo satellites," Weber continues. "The new receivers can listen to a variety of satellites to more consistently obtain an accurate location. Some new GPS systems can get accuracy in the field of less than one foot."
Ralston is the new ESRI (Environmental Systems Research Institute) representative for Idaho. Visitors can meet him and discuss their GIS software concerns. Weber and the GIS Center have received ESRI's Special Achievement in GIS Award. Few universities receive the award, which usually goes to GIS service providers in the private and government sectors.
Weber says that world events show the many uses to which GIS technology is being put.
"In the recent spinach contamination, how did we find out where the spinach was grown and packaged?" he asks. "GIS was used to help answer that question. GIS is also valuable in homeland security issues. Some cities and counties are now being required to produce integrated GIS for emergency response."
The presentation "MapWindows: Open Source GIS," by Dr. Daniel Ames, ISU assistant geosciences professor, at 11:30 concludes the morning session.
On a lighter but hotter note, the GIS Day chili cook-off returns. Tasting begins at 12:30 p.m. To participate in the cook-off, contact Weber before 4 p.m. Nov. 14th at (208) 282-2757 or webekeit@isu.edu.
Afternoon activities include a meeting on the status of GIS in Idaho conducted by State GIS Coordinator Nathan Bentley at 1:45, the introduction of geotechnologies faculty at 2:20, and a presentation, "GIS Tools for Digital Geology," by Benjamin Crosby, ISU assistant geosciences professor, at 3:30.
World GIS Day is sponsored nationally by the National Geographic Society, The Association of American Geographers, University Consortium for Geographic Information Science, U.S. Geological Survey, The Library of Congress, ESRI, Hewlett-Packard, and Sun Microsystems, and locally by the ISU GIS TReC.
For more information, visit http://giscenter.isu.edu/gisday/index_css.htm.
2006 National GIS Day Schedule of Events
All activities are in the ISU Geographic Information Systems Training and Research Center, Graveley Hall Rooms B-19 and B-20
Time Activity 9 a.m. Doors open and the trivia contest begins
9:15 a.m. Introductions, Keith T. Weber, ISU GIS TReC Director Open House GIS Demonstrations and exhibits
10 a.m. New GPS Technologies, Ryan Pierson, Electronic Data Solutions
11 a.m. New GIS Technologies, Bryant Ralston, ESRI
11:30 a.m. "MapWindows: Open Source GIS," Dr. Daniel Ames, ISU geosciences
Noon Annual Chili Cook-Off
1 p.m. Voting closes for the Chili Cook-off
1:15 p.m. Chili Cook-off awards presentation
1:30 p.m. Southeastern Idaho GIS Users' Meeting
1:45 p.m. Status of GIS in Idaho, Nathan Bentley, Idaho GIS Coordinator
2:15 p.m. Question, answer, and discussion session
2:20 p.m. Meet the GIS faculty and staff at ISU
2:50 p.m. Question, answer, and discussion session
2:55 p.m. Upcoming workshop sneak peek
3:30 p.m. "GIS Tools for Digital Geology," Benjamin Crosby, ISU geosciences
3:35 p.m. Question, answer and discussion session
3:45 p.m. NR URISA (Northern Rockies Urban Regional Information Systems Association) member's forum
4:15 p.m. Wrap-up and closing
---
Categories: