ISU alumna honored as Dental Hygienist of the Year
November 21, 2006
ISU Marketing and Communications
It's not the cover of the Rolling Stone, but having her picture on the cover of the November issue of Modern Hygienist magazine works just fine for Lisa Higbee, an Idaho State University alumna and dental hygienist for dentist D. Michael Sutton in Pocatello.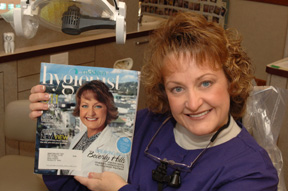 Earlier this fall, Higbee was chosen as the 2006 BreathRx® Hygienist of the Year by Discus Dental and was awarded a $5,000 prize for that honor.
Winning the award and gracing the cover of one of her favorite professional publications has been, in her words, "amazing." Higbee, who graduated from ISU's dental hygiene program in 1986, was one of 500 nominees/entries for the award. Judges whittled that number down to 10 finalists. Those finalists were interviewed over the phone, and Higbee made the cut to the final five and was flown to Beverly Hills to be interviewed.
"I felt confident about my abilities, but after I met the other finalists I wasn't sure I'd win the award," Higbee said. "After I had my interviews, though, I felt more confident again. It was just a blast and unbelievable when they chose me. I was so honored to be chosen as one of the five finalists and was further honored that I won."
Criteria for the contest included patient and colleague evaluations, care plan case studies, as well as a self-written statement that demonstrated the contestant's passion and vision for the dental hygiene profession. The contest, which ran from May–August of this year, was created by Discus Dental to honor hygienists who are at the top of their profession.
"It was a blast down in Beverly Hills," Higbee said. "It was total pampering for three days. I had a personal assistant, drove around in a limo and stayed in the Regent Beverly Wilshire Hotel, where 'Pretty Woman' was filmed."
A native of Wisconsin, Higbee moved to Idaho and first attended Boise State University before transferring to ISU to enter its dental hygiene program.
"ISU's dental hygiene school is well known nationally and it offers a Bachelor of Science degree, not an associate degree offered at many other schools," Higbee said. " ISU is above just being a good dental hygiene school; it is exceptional. It's a tough program to be accepted into because of its high standards, but you receive an excellent education."
She noted that ISU now offers an online dental hygiene master's program that offers even more opportunity and training to students, broadening their career paths and educational opportunities.
"Dental hygiene has been a wonderful career choice for me," said Higbee who has been practicing for 20 years. "It has been fulfilling and has allowed me a lot of flexibility with my family."
"The dental hygiene faculty members are proud of Lisa's career and accomplishments," said Kathleen Hodges, chair and professor of dental hygiene. "Lisa excelled in school, particularly in the areas of communication and patient rapport. This national award is well deserved."
The dentist Higbee works for in Pocatello, D. Michael Sutton, is no less impressed with her professionalism.
"I always look forward to our work–day together, and know that our patients absolutely love their visits to our office because of the superior care she provides," Sutton said. "Lisa's rapport with our patients is unparalleled. When people come for their visits with her, they know they are in for more than your average 'cleaning.' They know they will be treated by someone who is truly interested in them and their lives – a real friend."
Higbee, who met her husband, Chad, while cleaning his teeth, has two children: a daughter Shelby, 14, and son Taylor, 12. Chad, who has worked as a Pocatello police officer for the last 13 years, is now a student at ISU studying political science.
---
Categories: