ISU 'A Season of Note' series to present Acoustic Eidolon
November 21, 2006
ISU Marketing and Communications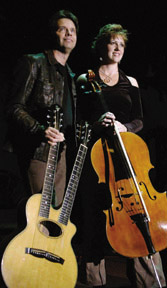 The duo Acoustic Eidolon and its international musical guests will present a concert at 7:30 p.m. Saturday, Dec. 9, in the Joseph C. and Cheryl H. Jensen Grand Concert Hall in the L.E. and Thelma E. Stephens Performing Arts Center as part of Idaho State University's "A Season of Note" series.
Acoustic Eidolon is comprised of Joe Scott and Hannah Alkire who combine their music talents. Scott plays a custom acoustic guitar, the double neck guitjo, an instrument he invented. Alkire performs on the classic cello. The duo will welcome their friends, Thomas Loefke, renowned Celtic harpist from Berlin, Germany, and fiddler/whistler player Claire Sherry from Dublin, Ireland.
The show will feature Acoustic Eidolon's trademark sounds and the artists will combine their multicultural influences to create a mix of classical, folk, Celtic and "World" music.Acoustic Eidolon has performed at acclaimed venues around the world such as Saint Paul's Cathedral in London, England, the Spandau Theatre in Berlin, Germany, and the Kennedy Center in Washington, D.C. They have been featured on nationally syndicated radio programs, including National Public Radio's "All Things Considered" and "WoodSong's Olde time Radio Hour." The Boulder Weekly described Acoustic Eidolon as "a sublime acoustic duo" and Steve Ryals, CD Review, said "Acoustic Eidolon is contemporary instrumental music par excellence, offering warm, emotional melodies." Acoustic Eidolon has produced five CDs. For more information on the group, visit www.AcousticEidolon.com.
Loefke has developed his own performing and musical style, and has toured across Europe, Canada and the United States. He has received numerous international prizes, including first prize at the O'Carolan Harp Festival. He has worked with many of Europe's top Celtic artists, including Maire Breatnach of Riverdance fame and Berlin, Germany's internationally acclaimed Celtic group, Norland Wind.
Sherry is a graduate of the National University of Maynooth in Ireland. At 22, she is an up-and-coming fiddler from Dublin, Ireland, and has won many national competitions. Sherry has been studying and playing traditional Irish music since a very young age.
Tickets are $16 for the main level or $12 for the upper level. Tickets can be purchased in person or over the phone at the Stephens Center Box Office, which is open from 10 a.m. to 4:30 p.m. weekdays, and an hour before performances begin. The Box Office phone number is (208) 282-3595.
---
Categories: