Executive in residence lectures pharmacy students
November 17, 2006
ISU Marketing and Communications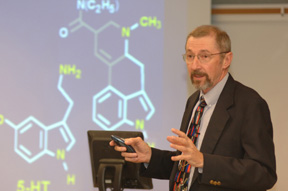 Idaho State University College of Pharmacy alumnus Dr. David Nelson, who has worked for Eli Lilly for 16 years, shared his experiences and wisdom with pharmacy students, faculty and staff Nov. 13-14.
Nelson, the College of Pharmacy's fall 2006 executive in residence, graduated from ISU in 1971 with a Bachelor of Science degree, and earned a Ph.D. in pharmacology from the University of Colorado in 1976. An expert in neuropharmacology, Nelson is a Lilly Research Fellow.
On Nov. 13, he delivered the lecture "From Bench Top to Bedside: The Hurdles and Costs of Pharmaceuticals" to ISU students in the College of Pharmacy lecture hall that was also broadcast to students in Boise.
"Drug development is an expensive, high-risk endeavor," Nelson said.
He noted that in 2006 it takes about $1.2 billion and more than 14 years to get a drug from its idea state to the marketplace. Only 30 percent of drugs that make it to the marketplace produce revenues that match or exceed research and development costs.
Nelson said about 20 percent of Ely Lilly's sales income goes toward research and development. Globally, pharmaceutical companies spend about $50.3 billion dollars on the research and development of new drugs. Nelson said about 53 percent of all drug research done in the world is done in the United States because Nelson because it is "the last free market" for drug developers. Nelson said there is a greater need for collaboration between academia and industry to produce new drugs.
His talk was well received by students.
"I thought it was an excellent lecture," said Clinton Smith, a third-year pharmacy student. "It was interesting to hear the viewpoint of a representative of a major pharmaceutical company discussing the trends in the industry for developing new drugs."
In addition to his lecture on developing new drugs, Nelson also spoke to students about "Pharmacist Career Options in the Pharmaceutical Industry" and gave the lecture "The 5-HT 1F Receptor: From Cloning to the Clinic," during a research seminar with graduate students. Nelson also participated in a variety of informal and formal discussions, and social events, with students, faculty and alumni from a variety of disciplines.
"There is no pharmaceutical drug industry to speak of in Idaho," said Dr. Paul Cady, associate dean of the College of Pharmacy. "Nelson's visit gave our students the opportunity to hear about a portion of the pharmaceutical world that doesn't really exist in Idaho, and introduces them to career options that they might not have been aware of."
---
Categories: