Bond to present recitals of Shostakovich's works
October 19, 2006
ISU Marketing and Communications
The Idaho State University Music Department is pleased to present a Centennial Celebration of Dmitri Shostakovich by Dr. Kori Bond, professor of piano, at 7:30 p.m. Oct. 27 and 28 in the Joseph C. and Cheryl H. Jensen Grand Concert Hall in the L.E. and Thelma E. Stephens Performing Arts Center.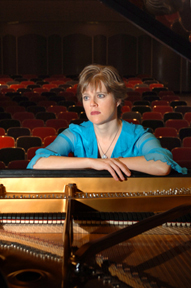 Bond will a present a performance of the Complete 24 Preludes and Fugues of Dmitri Shostakovich (1906-1975) in honor of the centennial of his birth. The set is comprised of two books containing 24 pieces each –12 preludes and 12 fugues. Because the set involves approximately 2-1/2 hours of playing, it will be spread over two evenings.
Tickets may be purchased at the door, by calling 282-3595, or by visiting the PAC Box Office from 12:30 to 5 p.m.
Bond has been interested in these pieces over the past several years and has planned this year as a celebratory time to perform and record the pieces. Her recording of the set will be released by Centaur Records early next year. Only seven recordings of the pieces have ever been made and only four are currently available, as compared with dozens if not hundreds of recordings of other standard piano works. Live performances of the complete set have only been given by Tatiana Nikoleyeva, the pianist to whom the pieces were dedicated, in the middle of the 20th century.
According to Bond, the pieces present a vast array of moods and styles. Many of them are peaceful and comforting, while others are wild and disturbing. The harmonic style is likewise varied amongst the pieces, with many pieces exhibiting traditional chord progressions and others featuring highly modern and abstract sounds. Listeners who enjoy the preludes and fugues of J. S. Bach's "Well-Tempered Clavier" will likely also enjoy the pieces by Shostakovich, who wrote them in 1950 in honor of the 200th anniversary of Bach's death.
At ISU, Bond teaches piano, coordinates the piano program and teaches piano-related courses. She has performed in many states as a solo and collaborative artist and as a soloist with orchestra. She frequently appears in concert with clarinetist John Masserini and soprano Diana Livingston Friedley in the Trio Lyrique and with pianist Karlyn Bond. She has also performed with such esteemed artists as soprano Diane Ragains, internationally renowned violinist Corey Cerovsek, flutist Christina Jennings, and violist Roland Glassl, along with many others. Recent performances include recitals at colleges and universities throughout the West and recitals on the Temple Square Concert Series in Salt Lake City, the Sherman Clay Recital Series in Seattle, and the Sierra Music Festival in Mammoth Lakes, California.
Tickets at the Stephens Center Box Office are $5 for general admission, $3 for ISU faculty and staff, $2 for precollege students and free for ISU students with valid Bengal cards.
No children under the age of six are admitted to concerts at ISU.
---
Categories: