Arrowheads and artificial intelligence: ISU, University of Texas collaborate
November 15, 2006
ISU Marketing and Communications
Idaho State University is collaborating in a research venture with the University of Texas that combines cognitive psychology, archaeology, informatics, education and information systems, which will allow archaeologists to use computers to identify artifacts that could formerly only be identified by a few people in the world.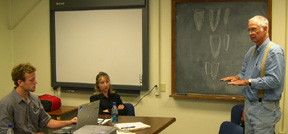 The UT Texas Archaeological Research Laboratory (TARL) contacted the ISU Informatics Research Institute (IRI) to develop a computerized expert-classification system for its collection of thousands of Clovis artifacts. Clovis is the name given to an ancient group of people, whose relics are found throughout North and into South America dating to about 12,000 years ago, said Dr. Skip Lohse, ISU anthropology chair and professor, and a member of the IRI.
"We were contacted by the University of Texas and we are committed to create this system for them in conjunction with collaborative funded research," said Dr. Corey Schou, director of the ISU Informatics Research Institute and assistant dean and professor in the ISU College of Business. "We're confident we'll receive the needed funding to accomplish this. The University of Texas sought out ISU's expertise because of our success developing similar systems."
This fall, IRI faculty were invited to Texas to discuss the project and interview the TARL experts to help develop the system. The TARL visit was a preliminary step in the drafting of a National Science Foundation proposal to fund the creation of TARL's system by the IRI at Idaho State University. The IRI system for TARL is based on an artificial-intelligence identification system powered by a computerized "neural-network" that was created at ISU by the IRI, which focused on the classification of artifacts from the northern Great Plains.
"Our colleagues at the TARL were sufficiently impressed by our research capabilities that they have invited the IRI team to keynote their research symposium in the spring," Lohse said.
The IRI computerized system for the University of Texas will have many capabilities, including the ability to allow users to enter a picture of an artifact such as an arrowhead or spearhead into a computerized system, and then the computer will classify what type of artifact it is, bringing up a range of identification choices and assigning a probability to each choice.
An archaeologist is the field, for example, who found an arrowhead at a Clovis site could take a picture of the artifact with a cell phone, send the electronic image to the computer program, and in a few seconds receive an accurate classification report about the arrowhead. Previously, to receive as definitive of a classification of the artifact, it would have been necessary for a scientist to manually compare different artifacts, leaf through hundreds of print and photograph descriptions of artifacts, search through a computerized database comparing artifacts, and/or actually have a Clovis expert examine the piece.The object classification system is "smart," because it makes logical comparisons on its own, allowing it to identify the source of an artifact, the region it originated from and its approximate age. It can also process artifacts it has never seen before, and incorporate the new information into its database.
The archaeological applications developed by the IRI exemplify the type of unique work it is able to conduct. The IRI, which is a National Center for Excellence of Information Assurance Education, is a multi-disciplinary unit that provides coordination for several research centers across campus and its mission includes "developing infrastructures to support research in diverse fields." The IRI focuses on involving the best and brightest students in research beginning as freshmen independent of their major.
The UT Clovis project represents the collaboration of five different academic disciplines on campus: Schou, professor of information systems with an information assurance background; Lohse, with an archaeological background; Dr. Kandi Turley-Ames, chair of the psychology department; Dr. Al Strickland, professor of instructional methods and techniques in the College of Education; and Dr. James Frost, research assistant professor in informatics. It's not often in higher education that faculty from such varied backgrounds work together in a cooperative basis, but that practice is common at ISU.
"The people at the University of Texas just couldn't believe the amount of interdisciplinary cooperation we have at ISU," Lohse said. "At a smaller university we're able to collaborate and involve students in ways that just don't happen at some of the larger research institutions."
The role of Turley-Ames in developing the Clovis artifact classification software is an interesting one and illustrates the types of collaboration that can be useful. The psychologist visited the University of Texas faculty to interview TARL experts on how they use their expert knowledge to classify Clovis artifacts. From these interviews Turley-Ames developed a "protocol analysis" of the data she collected, and this information will be incorporated into computer software code that powers the object classification system allowing it to identify objects. Turley-Ames and Lohse received an ISU Humanities and Social Sciences Research grant for the project they completed that focused on the classification of northern Great Plains artifacts.
This type of application ISU developed for archeologists has the potential to be employed for a variety of other enterprises, including a wide variety of information assurance applications, from verifying computer codes to identifying objects from satellite imagery.For more information on the ISU IRI, visit the Web sites http://iri.isu.edu or http://security.isu.edu/.
---
Categories: