2006 National Outdoor Book Award winners announced
November 3, 2006
ISU Marketing and Communications
A mystery of a missing backcountry park ranger. A newly married couple spending their honeymoon on a five-month wilderness journey following the Alaskan caribou migration. And caterpillars. Lots of caterpillars.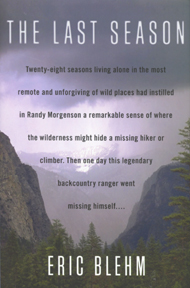 These are some of the themes found among the winners of the 2006 National Outdoor Book Awards (NOBA). The winners of this annual award program represent some of the finest outdoor writing and artwork being published today.
The NOBA Foundation, Idaho State University and the Association of Outdoor Recreation and Education sponsor the awards program. The NOBA is based at ISU and ISU Outdoor Program senior instructor Ron Watters has been the chair of NOBA for the last 10 years. The books are distributed through ISU to 25 judges throughout the United States. Judges are a mix of authors, magazine editors, outdoor columnists, graphic design specialists and other professionals.
The announcement of the award winners was made on Nov. 3 at the National Conference on Outdoor Recreation and Education being held at Boise State University in Idaho.
Awards are given in 10 individual categories.
One of the categories is the history/biography category, and this year's winner is "The Last Season," by Eric Blehm. In this outstanding work of investigative journalism, Blehm reconstructs the disappearance of a backcountry ranger on patrol in the California Sierras. Was it an accident? Was it foul play? Or was it all just a ruse? Could the ranger still be alive?
"The Last Season" is a fascinating story of an individual comforted by his solitary time in the wilderness but increasingly troubled by life in civilization. Blehm's book unravels the truth of this absorbing mystery of California's Sierra Nevada.
The winner of the Outdoor Literature category is Karsten Heuer's "Being Caribou." Heuer has just married and he has an idea for the perfect honeymoon: a five-month, 1,000 mile journey following the caribou migration from their winter range to their calving grounds in the Arctic and back again.
No stranger to adventure, his wife agrees. "Being Caribou" is Karsten's sensitive portrayal of the couple's adventurous and inspiring journey. The book captures, like no other, the exquisite beauty and stark realities of that timeless and most celebrated of all mammal migrations.
This year was also the year of caterpillars. Two new books, and both winners in this year's contest, are about caterpillars. One is a new identification guide to the caterpillars east of the Mississippi. The other, a combination of science and art, is a marvelous portfolio of photographs of the colorful caterpillars of Costa Rica.
Complete reviews of the books and more information on the awards can be found on the National Outdoor Book Award Web site at www.isu.edu/outdoor/books/release06.htm.
Here is a list of winners.
History/Biography Category: "The Last Season," by Eric Blehm from Cardiff, Calif., HarperCollins Publishers, New York, ISBN 9870060583002
Outdoor Literature Category: " Being Caribou," by Karsten Heuer, from Canmore, Alberta, Canada, The Mountaineers Books, Seattle, Wash., ISBN 1594850100
Natural History Literature Category: "Condor: To the Brink and Back," by John Nielsen from Washington, D.C., HarperCollins Publishers, New York, ISBN 9780060088620.
Nature and the Environment Category (two winners): "Life in the Underground," by David Attenborough from London, England, Princeton University Press, Princeton, ISBN 0691127034; Second winner: "Illustrated Atlas of the Himalaya," by David Zurick of Berea, Ky., and Julsun Pacheco, University of Kentucky Press, Lexington, ISBN 978081312388; Honorable Mention: "Carving Grand Canyon: Evidence, Theories, and Mystery," by Wayne Ranney of Flagstaff, Ariz., Grand Canyon History Association, Grand Canyon, Ariz., ISBN 0938216821.
Design and Artistic Merit Category (two winners): "100 Caterpillars," by Jeffrey C. Miller of Corvalis, Ore., Daniel H. Janzen of Philadelphia, Penn., and Winifred Hallwachs of Philadelphia, Penn., The Belnap Press of Harvard University Press, Cambridge, ISBN 0674021908; Second Winner: "Wings of Spring: Courtship, Nesting and Fledging," photographs by Tom Vezo of Green Valley Ariz., text by Chuck Hagner of Milwaukee, Wis., Stackpole Books, Mechanicsburg, Penn., ISBN 9780811701419.
Children's Category (two winners): "Kelly of Hazel Ridge," text by Robbyn Smith and illustrations by Gijsbert van Frankenhuysen, both of Bath, Mich., Sleeping Bear Press, Chelsea, Mich., ISBN #1585362689; Second winner: "Gaia Girls Enter the Earth," by Lee Welles of Corning, New York, illustrated by Ann Hameister, Daisyworld Press, Corning, New York, ISBN 1585362689.
Outdoor Adventure Guidebook Category: "The Middle Fork of the Salmon River: A Comprehensive Guide," by Matt Leidecker of Hailey, Idaho, Idaho River Publications, Hailey, Idaho, ISBN 1424302668.
Classic Category: Honorable Mention: "Sleeping Island: A Journey to the Edge of the Barrens," by P.G. Downes, Heron Dance Press, New Ferrisburg, Vt., ISBN 1933937033.
Instructional Category: "Extreme Kids," by Scott Graham of Durango, Colo., Wilderness Press, Berkeley, Calif., ISBN 0899973736.
Nature Guidebooks (two winners): "Yellowstone Expedition Guide: The Modern Way to Explore America's Oldest National Park," by Charissa Reid of Yellowstone National Park, Wyo., TravelBrains, Inc., Bedford, N.H., ISBN 1933763000; Second winner: "Caterpillars of Eastern North America," by David L. Wagner of Mansfield, Ct., Princeton University Press, Princeton, ISBN # 0691121443.
---
Categories: