Alumni News
1970s
Mary Ann Ranells, '73, superintendent of the West Ada School District, was named the 2018 Idaho Superintendent of the Year, selected by members of the Idaho Association of School Administrators (IASA). This award considers student achievement, instructional leadership, community engagement and relationship with the board of trustees.
Reed Brimhall, '78, was named a 2018 Excellence in Finance honoree by the Idaho Business Review. Brimhall is the current executive senior vice president and chief financial officer of Scentsy in Meridian, Idaho, a former senior manager for Deloitte & Touche in Boise and the former director of Office and Government Cost and Rate Studies for Stanford University.
1980s
Linda K. Ambard, '83, is recognized by Continental Who's Who as a Platinum Member in the field of Military Services in recognition of her role as Community Support Coordinator with the US Air Force Federal Service.
Kent Oram, '83, the chief executive officer of Idaho Central Credit Union, headquartered in Chubbuck, is an Idaho Business Review 2018 CEO of Influence honoree.
Myron Nield, '88, joined D. L. Evans Bank as vice president commercial loan officer at the Twin Falls Center. Nield has 17 years of banking experience, especially in SBA lending. He has served on the Kimberly School District board of directors for 12 years. He has also been the lead singer and guitarist for the past 15 years in the band Kimberly Road.
1990s
Ryan McDermott, '92, was recently named Chief Operating Officer of Phoenix Global Mining. McDermott has over 25 years of experience in the mining sector. He has held various senior positions in the mining industry in the USA and internationally in exploration, mine development and operations in base and precious metals projects.
Steve Hegge, '94, has been named development director of Children's Law Center. Hegge has over 20 years of experience in the local nonprofit arena and has raised funds for United Way, Campbell Lodge Boys' Home, the Cincinnati Art Museum, and the University of Cincinnati. He will oversee all fundraising and development activities at the Children's Law Center, and will coordinate special events.
Dr. Mohamed Abdelrahman, '94, was recently named provost at Arkansas Tech University. Abdelrahman previously served as vice president for academic affairs at Arkansas Tech. A 10-member search committee recommended Abdelrahman from a national pool of more than 60 applications. As provost, he will serve as chief learning officer, responsible for the University's academic quality and student learning.
2000s
Aaron Sanns, '00, has earned the Strategic Enrollment Management Endorsement from the American Association of Collegiate Registrars and Admission Officers (AACRAO). Sanns' name will soon appear in the national registry. Sanns is among an elite group of only 22 individuals to earn this endorsement nationally. Sanns is currently the Managing Director of Institutional Planning at BYU-Idaho. His responsibilities include supervising the areas of strategic enrollment management, space management and planning, and data and analysis services.
Liz Georg, '00, has been appointed as a board member to the Deep Creek Watershed Foundation. Georg is an attorney at Deep Creek Title Group in Oakland and offers legal and professional experience in business law, estate planning, real estate, and oil, gas and civil litigation.
Laura Smith, '04, was a finalist for the Idaho Business Review's Woman of the Year award. Smith is director of public relations at Idaho Central Credit Union.
Shelly Sayer, 06, the CEO of Premier Technology, based in Blackfoot, was named an Idaho Business Review 2018 CEO of Influence honoree.
Krystal Chanda, '07, was a finalist for the Idaho Business Review's Woman of the Year award. Chanda is a civil engineer with A & E Engineering.
James Dunkelberger, '08, was recently made partner at Bennett, Tueller, Johnson and Deere. Dunkelberger attended Brigham Young University Law School, where he graduated Summa Cum Laude, and clerked for Honorable N. Randy Smith 2012-2013.
2010s
Luke Nelson, '10, finished 8th internationally at the Tor des Geants, an endurance race covering 231 miles and climbing 90,000 feet in the Italian Alps. Nelson is a physician assistant with Idaho Sports and Spine.
The Idaho Academy of Nutrition and Dietetics has recognized Chelsea Schoenfelder, '12 and '13, as Idaho's Young Dietitian of the Year. Schoenfelder is a registered dietitian with Dairy West and oversees the nutrition education materials and curriculum provided to all health and school professionals. As health and wellness manager, she also serves as a vital link supporting nutrition science and research to educators, school foodservice professionals, and health professionals.
Kelli Baker, BS '13 and MBA '16, was hired as a Civil Engineer in Training (Civil EIT) by WH Pacific in Boise, Idaho. She will be training to become a Transportation Engineer.
Drew Bagley, '14, has joined the T-O Engineers survey team in the Meridian office. Bagley has been working on surveying projects since 2014. Bagley will be helping out on a wide variety of survey-related projects in the Boise, Meridian and Nampa areas.
Karlie Jill Petti, '17, is now a clinical dietician at the Shasta Regional Medical Center in Redding, California, beginning in that position in August 2018.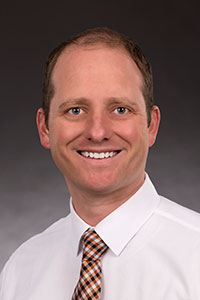 Sargent Named ISU Director of Alumni Relations


Ryan Sargent, a Pocatello native and an ISU alumnus, has been the associate director of ISU Alumni Relations since 2015. His official start date as director was Aug. 27.
"Ryan is a proud Idaho State Bengal, and his passion for our university is evident in all he does," said Kent Tingey, vice president for University Advancement.
Following his graduation from Highland High School, Sargent attended Idaho State University where he served as student body president, was a student lobbyist, an ISU Ambassador, peer advisor and a member of Phi Sigma Alpha. He graduated in 2009 with his bachelor's degree in political science.
"I'm honored to serve as the alumni director at my alma mater," Sargent said. "Bengal alumni are successful and they use their knowledge and abilities in the service of their families, friends, colleagues and neighbors. They help enrich the lives of people around them with greater meaning, happiness, health and fulfillment. Their contributions to their communities are a powerful extension of Idaho State's impact across the state and around the globe."
Sargent earned his Juris Doctor at the University of Idaho, College of Law, where he also served as student body president. Prior to returning to his alma mater ISU, he practiced law for a private civil litigation firm in Boise and served as a prosecutor in Power County.
"Idaho State's effect on my life cannot be understated," Sargent said. "I am proud to be a Bengal and know that ISU changes lives because it changed mine. I'm excited to help strengthen our alumni's ties to the university, its students and to each other in this role."
Ryan and his wife Brandi Reeder Sargent have a daughter, 17-month-old Emmeline Ivy, and enjoy ISU athletics, traveling, good food and hiking with their dog, Lilly.