Performing at Carnegie Hall: ISU Student Earns Once-in-a-Lifetime Experience
By Scarlett Osborn |
Idaho State University graduate, Jocelyn Foreman had an once-in-a-lifetime experience this May performing at Carnegie Hall in New York City, with her fellow ISU Camerata Singers.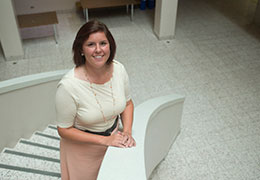 "At one point I had to ask someone to pinch me as I was ready to perform at Carnegie Hall," Foreman said. "It was a surreal moment in my life."
The Camerata Singers consists of Pocatello community members of all ages. The group has performed in Southeast Idaho since 1968. This summer, the singers spent five days and four nights in the Big Apple, exploring and prepping for their debut at Carnegie Hall.
Foreman joined Camerata Singers during her spring semester 2012, also participating in ISU's Concert and Chamber Choir. Since being a part of Camerata Singers, she has had the opportunity to participate in big works such as Mahler's Eighth Symphony and Verdi's Requiem as well as traveling to Spain and Portugal for performances.
"The best part about Camerata Singers are the people. I am grateful for the many friendships and musical opportunities I have been given by joining," Foreman said.
Foreman attributes much of the singer's success to the director Dr. Scott Anderson, ISU director of choral activities.
"The trip to New York, was a good combination of hard work with all the rehearsals and lot of laughing while enjoying each other's company," Foreman said.
"The best part was singing at Carnegie Hall, what a historical moment that was for all of us involved. If it wasn't for our director, Dr. Anderson, we would not have been given that once-in-a-lifetime opportunity."
Foreman received her elementary education degree, as well as a minor in music in the fall of 2012. She was then offered a graduate assistantship for the College of Education, while going to school full time. Most recently, Foreman graduated with her TESOL (Teaching English to Speakers of Other Languages) graduate certification, as well as receiving a Master of Education in literacy.
As for Foreman's future, she plans on traveling abroad this fall and teaching English in China.
"In all honesty, I don't know if my career path would have gone this direction if I hadn't attended ISU. My experiences here helped open doors to other possibilities that may not have been available for me if I would have gone elsewhere," Foreman said.
"Not only did ISU provide me with great schooling and once-in-a-lifetime opportunities, it allowed me to interact and meet a lot of amazing people who have influenced my life greatly. I am and forever will be grateful I made the choice to become an ISU Bengal," Foreman said.