Prescription for Success: From ISU Sport and Exercise Science Graduate To Physician
July 30, 2023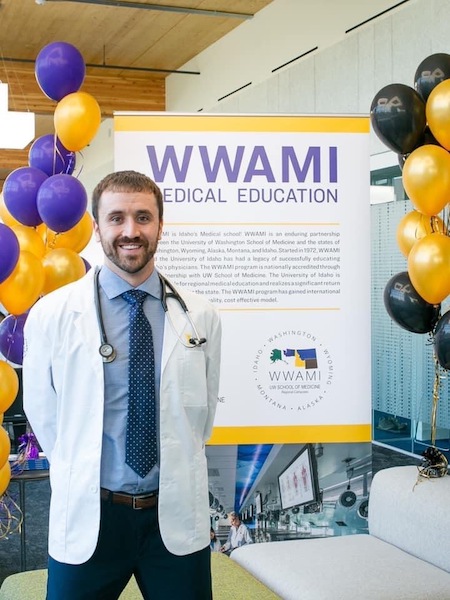 Braeden Leiby always had a passion for sports, but never imagined he'd be able to turn it into a career. He grew up in Pocatello, graduated from Century High School in 2014, and initially aspired to be a pharmacist. However, he quickly realized that it wasn't the right fit.
"I wanted to explore a program where I could meet with patients and help them,"Leiby said.
A skilled baseball player, Braeden became interested in sports medicine while in high school. He took a sports medicine class at Century High School and was hooked. That class was taught by Brent Faure. The career and technical education class exposed high school students throughout the Pocatello/Chubbuck School District to an array of healthcare professions but focused on athletic training practices. After finishing the class, Braeden decided he wanted to become a physician. He enrolled at ISU and chose sport and exercise science in the College of Education as his major.
ISU's Sport and Exercise Science program gives students access to not only state-of-the-art equipment but also facilitates unparalleled hands-on educational experiences that allow students to prepare for a successful career in a number of sport and health care fields. A focal point for students is working in the on-campus Human Performance Lab where they conduct hands-on physiological assessments, fitness evaluations, and nutritional analyses. Students use state-of-the-art technology and cameras in the biomechanics lab, too, to conduct kinetic analyses and diagnose common musculoskeletal deficiencies. Once deficiencies are identified, students write prescriptive exercise programs. Leiby took advantage of every opportunity he was afforded.
"It's a really strong pre-medical track," he said. "A lot of pre-med students typically choose an undergraduate degree like biology, chemistry, or biochemistry, but I think sport and exercise science is a great option because it gives students great exposure to other science-related classes that you wouldn't typically have in a biology or chemistry degree."
The work Leiby did in his Care and Prevention of Athletic Injuries course specifically taught him techniques he still uses in his current job.
"You're taping ankles, you're taping wrists, that's definitely a good hands-on tool that I used just a couple months ago," he said. "We were putting on splints in the emergency department with people that were coming in with upper and lower extremity fractures. It was a little bit different than taping an ankle, but it's the same motions."
The Sports and Exercise Science major allows graduates a variety of avenues to take their careers. Some students opt to work as personal trainers or strength coaches, but many continue on with graduate studies in health care, including physical therapy, physician assistant, or athletic training programs. Several students each year are accepted into medical schools to become physicians and even surgeons. Leiby is one example. He's currently in his fourth year of medical school at the University of Washington School of Medicine with plans to become a physician specializing in sports medicine.
"The program helped give me a strong sports medicine background and also exposure to general medicine as well," he said. "For example, Dr. Meyers' exercise physiology class was really geared towards medicine, which I think prepared me for my career in medical school and beyond."
While at ISU, Leiby also engaged in outside-the-classroom experiences, including volunteering with Portneuf Medical Center's community sports medicine program.
An internship he completed with OrthoIdaho helped to open up additional doors. For three years, Braeden worked as a Clinical and Research Assistant to Dr. Anthony Joseph, MD, at OrthoIdaho. Joseph is one of the most highly regarded sports medicine family practice physicians in the western United States. Leiby assisted Joseph with research related to regenerative medicine and non-operative orthopedics. Their research was geared toward helping patients overcome pain and mobility issues. Leiby also helped Joseph in the clinic by assisting with patient intakes, ultrasound procedures, injections, blood draws, and with the administration of platelet-rich plasma (PRP) procedures.
The entire experience strengthened Leiby's resolve to become a physician. He specifically credits Caroline Faure, chair and professor for the ISU Human Performance and Sport Studies Department, with helping him land the job at OrthoIdaho.
Leiby's main passion for medicine stems from wanting to help others.
"I really see myself giving back whether it be high school, college, or the athletic community in general," he said. "I want to help others improve their quality of life and get back to what they want to do. That's my main goal as a physician."
---
Categories: