ISU microbiology students share the science behind the COVID-19 vaccine
March 30, 2021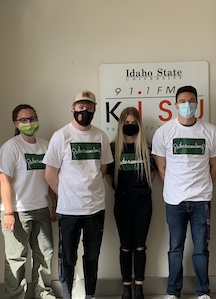 After being assigned a community outreach project in their Applied and Environmental class at Idaho State University, Chans Arce, Nicholas Phillips and Jacqueline Lindley knew they wanted to spread factual awareness about the COVID-19 vaccine to the community.
Their project, which requires students to create a presentation and share it with an audience, looks at the science behind the COVID-19 vaccine and addresses misunderstandings and common questions surrounding the vaccine.
"The vaccine has been highly politicized," Phillips, a Boise native, said. "We all have heard misconceptions on the vaccine, so we wanted to give a presentation that focused on trying to give out the simple science."
They discuss how the vaccine works, the ingredients, the effects, the need for a second shot, herd immunity and future understanding of the vaccine. Their presentation lasts about 30 minutes and is conducted in English, with Phillips also presenting in Spanish.
"We did our best to tailor our presentation to the general public," Arce, a senior microbiology major, said.
So far they have reached nearly 200 people and have several more presentations lined up.
They plan to continue presenting until the end of the semester, with the intention of informing more people in the community and beyond.
"It was disheartening to see people believing false information," Lindley, a senior, said. "We believed we could provide scientifically correct information for the public."
"We just hope people will take away the facts we present and are able to make an informed decision for themselves about the vaccine not based on propaganda," Arce said.
As a result of their presentation, people have become more interested in the vaccine.
"A number of people who have attended the presentation expressed an increased willingness to consider the vaccine afterward," said Rhesa Ledbetter, assistant professor and project advisor. "Ultimately, the students are offering this to help people make an informed decision.
Though their presentation was intended for the community, it has also impacted ISU students.
"I think it's inspired students by showing them what a difference they can make and how important science communication is to the general public," Ledbetter said.
For more information about the presentation, or to schedule a presentation, email Arce at chansarce@isu.edu.
---
Categories: