Six ISU student teams from various colleges qualify to compete in the Idaho Entrepreneur Challenge
March 13, 2020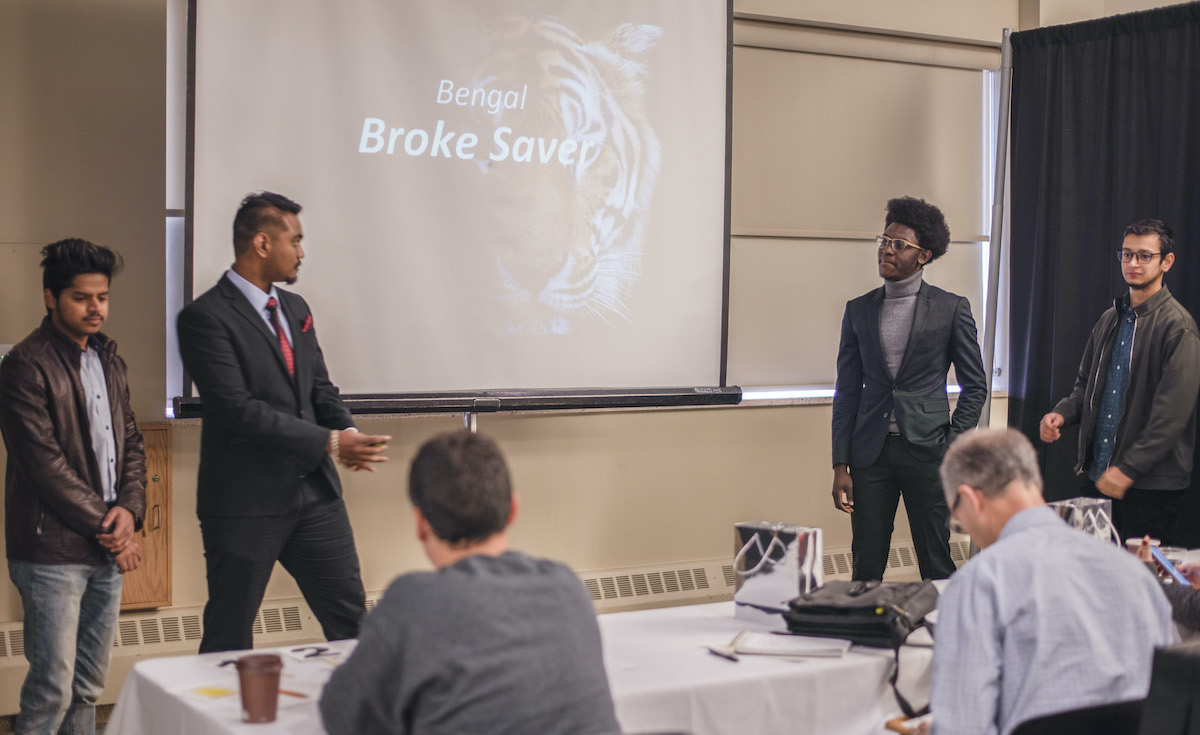 POCATELLO – Mentored by the Idaho State University College of Business Center for Entrepreneurship and Economic Development program, six ISU student teams from various colleges have been selected to compete in the Idaho Entrepreneur Challenge in Boise and the Northwest Entrepreneur Competition in Spokane, Washington, this April.
"After starting last September with more than 50 ideas from student entrepreneurs, it is my pleasure to announce the ISU student teams invited to the finals of the 2020 entrepreneurship pitch contests in Boise and Spokane," said Jeff Street, advisor for the students and the director of the Center for Entrepreneurship and Economic Development. The teams invited to the Idaho Entrepreneur Challenge include:
BedWedge
BedWedge, created by business students Michael Magee, marketing, and Dylan Orr, management, is a bike rack designed to fit in the bed of a pickup truck. The rack will hold from one to six bikes and adjusts to "wedge"' into different sizes of beds of numerous models of trucks. It is removable and can also sit free standing in a garage to hold bikes in storage.
Broke Bazaar
Broke Bazaar, designed by business and technology students including finance and management students Saugat Shrestha and Joachim Fosu, and computer science student Alankar Pokhrel, is an online marketplace like Craigslist with added features and services offered exclusively for students, staff and alumni of a university. This exclusive marketplace helps college students trade their things effectively and efficiently because the transactions are more convenient, less time consuming, safe, and inexpensive by using on-campus areas as exchange points.
H2 Therapeutics
H2 Therapeutics, designed by pharmacy doctoral and MBA students Hugo Rayo and Will Cannon, pharmacy faculty Jared Barrott and Kerry Casperson, and software developer Taft Barrott , is a medical device that provides antioxidants through inhalation or drinking water infused with antioxidants. The device can help fight numerous diseases that are related to oxidative stress, such as dementia, heart disease, diabetes, aging and cancer.
Mind Stream
Mind Stream, designed by computer science student Dylan and junior high school student Jonah Brown, provides technology developers and gamers with the gateway to the brain. It's an easy, low-setup headset and software for controlling technology with the mind. This technology is a pathway to the future of human-computer interaction.
Pipe Variation Challenge
The Pipe Variation Challenge, designed by organizational learning student Christie Collier and Highland High School sophomore Mary Swore is a game inspired by skills required for positions in Science Technology Engineering and Math (STEM) related careers. The game accomplishes this by using critical thinking, problem solving, communication, logic, and teamwork to solve each challenge with a fun, hands on activity using connecting pipe pieces made of PVC.
Sharp Sense
Sharp Sense, created by master of health administration and MBA student Tony Torres (MHA/MBA) and certified nursing assistant and cosmetologist Kelsey Torres, has developed an improved receptacle to house standard five-quart sharps containers. The improved receptacle is equipped with sensors that will detect and alert the medical staff of overfilled containers. The sensors will also sound when a discarded needle falls into a jeopardizing position that increases the risk of a needle stick.
H2 Therapeutics has also been invited to participate in the Northwest Entrepreneur Competition.
"I want to thank all of our colleagues who have helped our students along the way with your classroom instruction, review of spreadsheets and materials, and hallway chat about the merit of the ideas," Street said. "My special thanks to the faculty and CPIs (career path interns) of the College of Technology for their help each year in building top-notch working prototypes and my cohorts in the Small Business Development Center and Bengal Solutions for pitch coaching."
These two competitions are events where student teams from universities from all over the state compete and pitch their business ideas to a panel of judges. In the Idaho Entrepreneur Challenge competition, they will have the opportunity to win a portion of $100,000 in prize money and $44,000 in the Northwest Entrepreneur Competition. Students from ISU have been competing in the Idaho competition for four years and the other competition for two.
"These ideas could have a significant impact on industries such as healthcare, secondary education, and virtual reality. It takes a campus wide effort to bring these ideas to 'venture capitalist' ready pitches," Street said.
In addition to preparing students to compete in these competitions, the ISU College of Business Center for Entrepreneurship and Economic Development helped launch the first annual High School Idaho Entrepreneur Challenge in Boise in January along with Teach Idaho, Trailhead of Boise, Key Bank and Boise State University's Venture College.
The results of the Idaho Entrepreneur Challenge will be announced on April 2 after the final rounds and results for the Northwest Entrepreneur Competition will be announced April 16. After the competition, students can use the prize money to further develop their ideas and bring them to the mass market.
---
Categories: