CAES annual pitch event Baby Shark Tank open to ISU faculty and students
August 4, 2020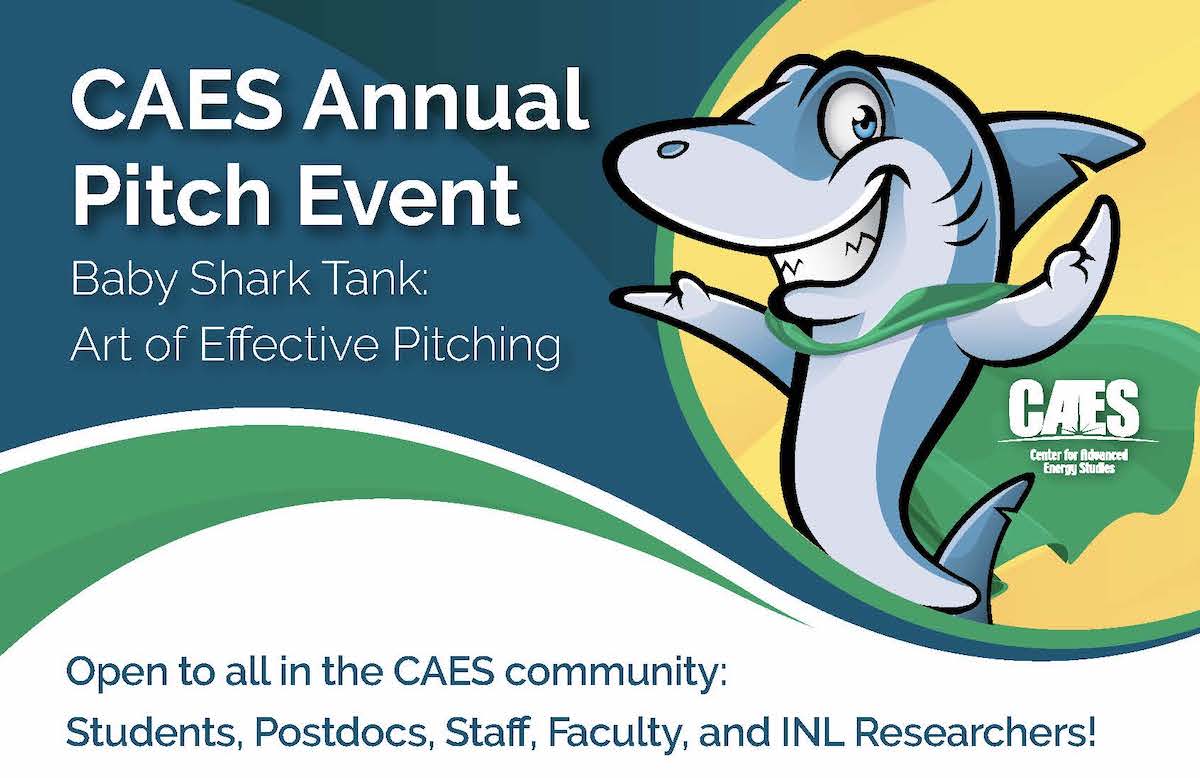 $4,000 in prize money available; registration open through Aug. 19
CAES Annual Pitch Event: Baby Shark Tank
Go here to register.
Center for Advanced Energey Studies leadership is excited to announce the inaugural CAES Annual Pitch Event (CAPE)! This groundbreaking program combines elements of the three pillars of the CAES Strategy – research, education, and innovation – and culminates in a (Baby) Shark Tank competition with nearly $4k in prize money.
Open to students and faculty at the CAES universities and researchers at the Department of Energy's Idaho National Laboratory, CAPE is designed to help transfer the innovation and research that thrive at CAES from the laboratory to the commercial sector. Participants learn how to effectively pitch their ideas, hone their newfound skills, and potentially earn cash prizes for their efforts. Registration is underway through August 19, and an information session will be held on August 17 at 11:30am MT (details at the end of this page).
CAPE: Baby Shark Tank is open to all levels of ideas, from early-stage concepts to investment-ready research, pitched by anyone in the CAES community, from undergraduates to faculty and INL researchers. No idea or project is too small.
Go here to register.
The Challenge
The ability to effectively communicate innovative ideas is key to bringing new products and technology to market and the general public. Even the best idea can seem lame if it is poorly explained. A strong pitch, on the other hand, can spell the difference between funding and failure. Many researchers and scientists lack the time and training required to hone the ability to deliver a concise and compelling pitch, however. The CAES Annual Pitch Event, aka Baby Shark Tank, is designed to do just that. CAPE competitors learn how to effectively pitch their research, how to help others understand an idea and build interest in it. The goal is to teach the students, faculty, and researchers who enroll in CAPE how to convince others – funding agencies, potential industry partners, or even investors – to take action in support of an idea.
The Initiative
CAPE: Baby Shark Tank provides participants with access to training to help develop the skills required to pitch innovative ideas more effectively. Participants will receive streamlined access to CO*STAR and RIIS training.
CO*STAR, which stands for Customer, Opportunity, Solution, Team, Advantage, Results, is a method for turning ideas into powerful value propositions that was developed in Silicon Valley.
RIIS stands for Rapid Idea Improvement Session, and it allows participants to engage in constructive feedback sessions with a diverse group of researchers that result in the development of ideas and, ideally, breakthrough innovations.
Proposed scope and structure
Effectively pitching an idea hinges on two components:
Establishing the value proposition of the proposed idea to the target audience
Communicating a complex idea to a non-expert
As mentioned, CAPE is open to all levels of ideas, pitched by anyone in the CAES community.
This year, the competition is open to individuals only, no teams, although multiple researchers could pitch the same project if they are all co-principal investigators on that project.
Entries are judged on overall merit of the effectiveness of the pitch/presentation rather than technology-readiness level.
Registration is under way, but CAPE: Baby Shark Tank will officially launch with a virtual information session on August 17 at 11:30am MT and will be held in three stages, each briefly described below:
Stage 1: Registration and CO*STAR Training
Register – Starting August 4 through August 1
Submit a paragraph by August 21 that describes the research idea or project to be pitched.
Attend a 2-hour CO*STAR training on August 24 or 25 (stay tuned for details)
Stage 2 Coaching and Improving the Pitch
Create draft slides and pitch to be used in RIIS
Participate in RIIS (Schedule TBD: August 31-September 2 timeframe)
Submit one-page pitch incorporating RIIS feedback (one-page pitch is evaluated and finalists selected for Stage 3)
Stage 3 Pitch Event and Prizes Awarded
Submit slides to be used for virtual pitch (template to be provided)
Participate in virtual pitch competition the week of September 21st
Awards are announced and distributed
1st place: $1500
2nd place: $1000
3rd place: $750
People's Choice: $500
Outcome
CAES research community develops and hones the skills needed to effectively communicate their work in short, dynamic, and engaging presentations while effectively pitching technical ideas or solutions.
The competition provides a platform for the research community to practice using these skills.
The goal is to attract interest in future entrepreneurship initiatives at CAES among students, faculty, and researchers, and to provide a more public launch to the new innovation pillar.
Finalists have access to direct feedback on their work throughout the process, providing the foundation for their evolution and improvement as well as future industry collaborations.
Opportunity for participants to highlight awards and training, for their own advancement.
Registration: Go here to register.
Email CAES Communications Lead Matt Evans at matthew.evans@inl.gov for details on the August 17 information session.
---
Categories: