College of Business alum Roger Akers meets with graduate students as first GABS Executive Speaker
October 20, 2020
Sophia Perry, Business Graduate Assistant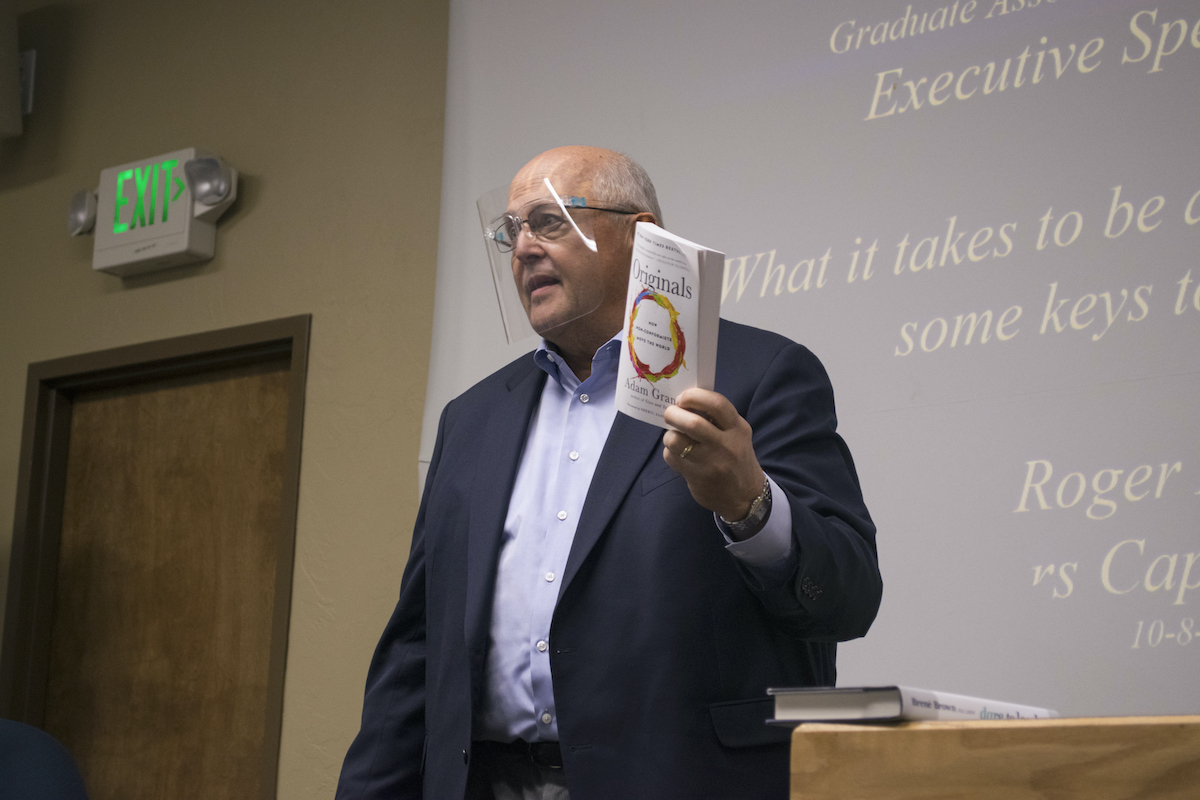 POCATELLO – This month the Idaho State University College of Business was fortunate to have alumnus Roger Akers visit and be the first speaker for the College's new GABS Executive Speaker Series.
Initiated by College of Business Dean Shane Hunt and Director of Graduate Studies Kristine McCarty, the GABS Executive Speaker series brings in successful alumni from the College's graduate programs to speak to students about their career trajectory. This provides networking opportunities and allows current students to witness the successes of the students that have come before them.
A California resident, Akers traveled a few hundred miles to share his experience with College of Business students. Over the course of the day on Oct. 8, Akers had lunch with members of the GABS club, visited a number of classes and went on a campus tour. He spent a great deal of time connecting with current students in graduate programs.
"Roger helped us to understand how to apply complex concepts like taking risks, failing and he even gave us interviewing tips," said Nikole Layton, a GABS member pursuing a Master of Business Administration degree and Master of Healthcare Administration degree.
Akers's speech focused on the dealings of venture capitalism as an entrepreneur. As a founder of the successful Akers Capital LLC, he has had firsthand experience in what venture capitalists want to see before investing.
When asked by a student what his greatest piece of advice would be, Akers responded, "People in our world take far too little risk in their lives. They settle. Take risks and trust yourself that things will turn out okay." This seemed to be the theme of the day, and it struck a chord with many of the students.
"Our students appreciate the opportunity to learn from the experiences of those more advanced in their careers. Roger's visit was a great success, and we look forward to inviting more graduate program alumni back in the future," McCarty said.
People interested in being one of the GABS Executive Speakers in the future can contact GABS President, Sophia Perry, at perrsoph@isu.edu.
---
Categories: