ISU Officials, Dignitaries Announce $4 Million Renovation for Davis Field
April 23, 2019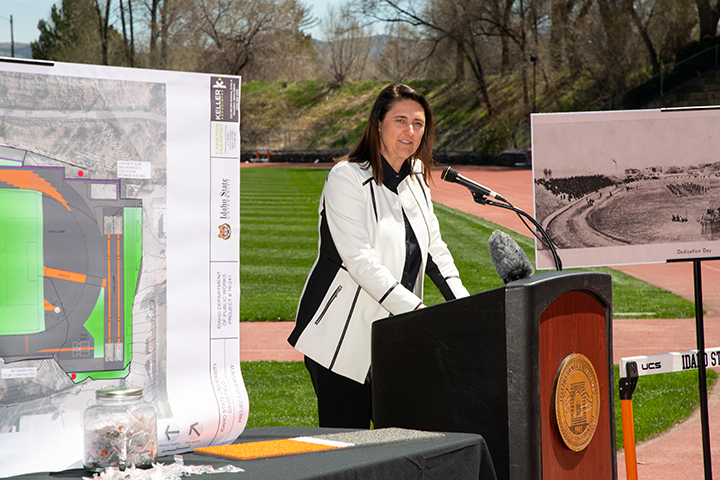 Renovations include replacing the track and renovating the soccer field.
Idaho State University officials and Pocatello Mayor Brian Blad on Tuesday provided details about the new $4 million renovation for Davis Field that will restore and improve the track, field events area and the soccer field, replace the bleachers on the east side with a grassy hill area and add lighting.
"The upgrade will once again ensure, that for the first time in a decade, our track and field program will be able to host home competitions, our soccer team will play on a regulation size field, capable of hosting tournaments and postseason competitions, and we will have a facility that everyone in the community can enjoy and be proud of," said Kevin Satterlee, president of Idaho State.
Pauline Thiros, ISU athletic director, echoed Satterlee's sentiment, "Restoring Davis Field is the right thing to do. It is a historic and beautiful venue, and it is an important facility for ISU athletics. Today, we come together as one University, one team, having found a way to do what we know is the right thing for our student-athletes."
The details were announced onsite at a news conference on Tuesday, April 23.
Additional details about the Davis Field renovations include:
• Improvements center on taking out the condemned bleachers on the east (Red Hill) side of the field, putting in a retaining wall and then landscaping a grass hill that will extend back toward Red Hill.
• Removing the condemned bleachers will allow the soccer field to be widened to regulation width and for the track to be widened. The soccer field will then be regulation size and eligible to host championships and non-conference teams.
• The track will be replaced and drainage for the track and the field will be improved. ISU track and field will then be able to host outdoor track meets, including conference championships, at Davis Field.
• The field events area – for events such as long jump, pole vault, discus and high jump – will be moved from inside the oval of the track to a newly developed area on the south side of Davis field. This will help address safety concerns and team practice conflicts.
• Lights will be added, which will greatly help both athletic programs, adding flexibility for scheduling games and practices.
Davis Field's new lighting will extend the useful time in the venue so now soccer games can be played in the evening. Before, they could only be played during daylight hours. The longer field availability also provides increased flexibility for track and soccer teams to practice.
For track, the renovations will be even more important: the Bengals will now be able to host outdoor track meets again.
"This is so exciting to have this kind of announcement and this kind of event happening today in Pocatello," Mayor Blad said. "It just shows the commitment Idaho State University has to our community."
Without renovations, the soccer field is too narrow and the track and field facilities, including the running track itself, no longer meet NCAA standards. Thus, ISU soccer and track and field cannot not host conference championships. Furthermore, ISU soccer was having trouble scheduling non-conference games on the field because it isn't regulation width, and track and field has not been able to host any outdoor meets at Davis Field since 2007.
"This is the first step in addressing critical facilities needs in Bengal athletics, and it represents a commitment to meeting the needs of a Division I athletics program in the proper way," Thiros said. "Track and field will once again host meets, which alleviates some travel costs and missed classes, and puts a good foot forward for ISU in the Big Sky Conference. Soccer is once again eligible to host championships, it improves the experience for spectators, and the venue will do much better at meeting the needs of both programs for practice and training. The project is a tremendous step forward for ISU."
The Idaho State Board of Education gave final approval to the project last week at its April meeting.
The project could begin as soon as this summer. While Davis Field is being renovated, alternate arrangements will be made for soccer and track and field practices and competitions. The project could potentially be completed by as early as the end of the year.
---
Categories: