Student Acquisition and Cultural Assimilation Association formed to help ISU international and nonresident students
February 1, 2018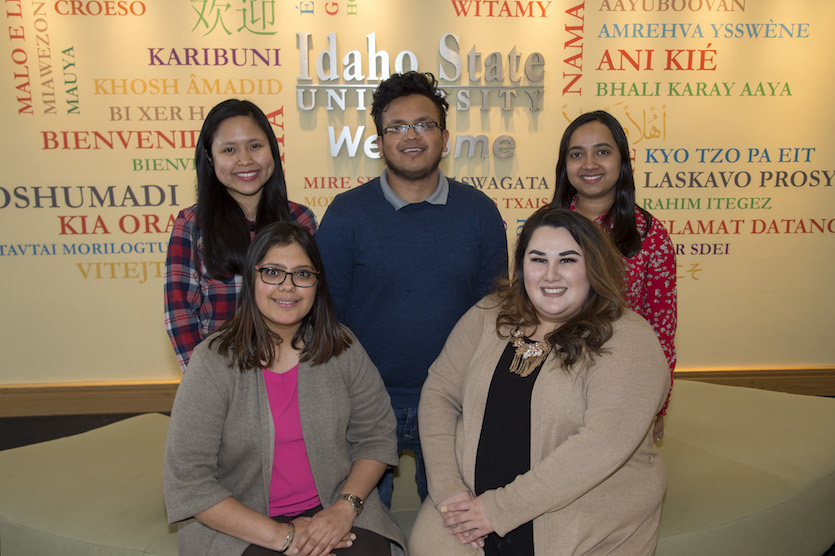 POCATELLO – The Student Acquisition and Cultural Assimilation Association (SACAA) student organization has been formed at Idaho State University to help international and nonresident students acclimate to Pocatello and ISU.
"We try to help them in every possible way," said Sushil Pathak, SACAA treasurer who is a sophomore from Nepal majoring in business informatics. "We want to help each and every one of the students who come from all over the world to study at ISU."
The group was formed in fall 2017 and is hoping to grow its membership.
"This group is an excellent resource for new international students at ISU," said Kristine McCarty, College of Business director of undergraduate studies and SACAA faculty advisor. "Imagine how challenging it can be as an incoming freshmen to navigate a new school, a new environment, and new policies and procedures – not to mention making it through classes."
"Being an international student adds an extra layer of complexity to all of that," she continued, "because these students are also trying to understand and participate in a new culture. The students in SACAA are familiar with the challenges international students face, and they guide new international students to the appropriate resources on campus to help them be successful here at ISU."
The club is currently collaborating with the College of Business and the International Programs Office, but would like to work with many more ISU colleges and departments.
"Initially, when international students come over here and they may have a problem finding housing or when they are first they may have difficulty locating offices or building," Pathak said. "We came up with the idea to help the new students so we can be the bridge between the students and the departments. We can help them reach out to the departments they are interested in regarding their courses."
The group can help students do everything from registering for a specific class to help them acculturate to university life in the United States.
"We want to help new students recognize cultural differences of people, to help fill the gap so that they can understand cultural differences," Pathak said.
For example, he said that students coming from other countries may not have a concept of plagiarism.
"Back in our country, we have no concept of what plagiarism is so it can be difficult to cope with a new environment," Pathak said. "So we plan on running a workshop in the future, collaborating with other departments, so each and every student will know what plagiarism is and what happens when it is done."
The new club is cooperating with New Student Orientation, the International Programs Office and international student organizations to increase its visibility.
The club also wants to make ISU international and non-resident students ambassadors for the university.
"Our aim is to promote ISU all over the world, so if I go back to Nepal, I promote ISU over there, and the same for students from other countries," he said.
Students interested in more information about SACAA can email sacaa@isu.edu, call Pathuk at 208-220-3819 or visit the group's Facebook page at www.facebook.com/ISUSACAA/.