ISU to present Jazz Bands concert April 7; Kuwaiti students to perform
April 3, 2017
POCATELLO – Idaho State University jazz bands will present a concert on April 7 at 7:30 p.m. in the L.E. and Thelma E. Stephens Performing Arts Center's Jensen Grand Concert Hall.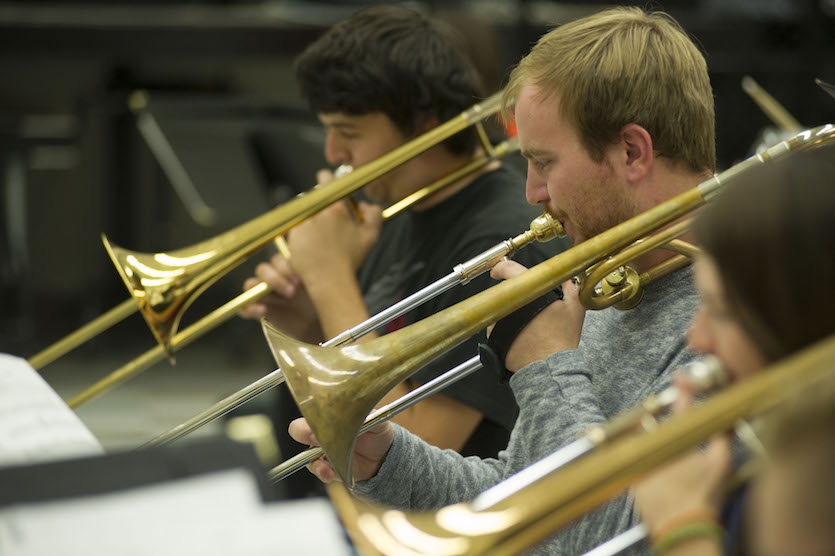 The evening will feature the ISU Big Band performing the world premiere of Department of Music chair Thom Hasenpflug's original composition "Seven Out."
The ISU Chamber Jazz Ensemble and the ISU Chamber Orchestra will collaborate with four ISU Kuwaiti students to perform the music of Mohammed Abdel Wahab, an Egyptian composer and oud player. Jon Armstrong, ISU director of jazz studies, transcribed Wahab's music from YouTube and arranged it for this concert.
The four Kuwaiti students include,Yousef Haji, on oud, Abdullah Alasfoor on daf and Abdullah Bokubar and Abdullrazaq Alhunaif on the doumbek.
"We are excited to perform with our Kuwaiti students," Armstrong said. "Yousef introduced me to the brilliant music of Wahab, and we have met several times to discuss traditional Arabic music that Yousef studied at a Kuwaiti music conservatory."
Students will also perform on April 5 at noon on ISU's Quad.
Tickets are $8 for adults, $6 for faculty and staff, $4 for precollege students and free for ISU students. They are available at the door.
For more information, contact Jon Armstrong at 282-3143 or armsjona@isu.edu.