Idaho State University School of Performing Arts to present "Waiting for Godot"
April 4, 2016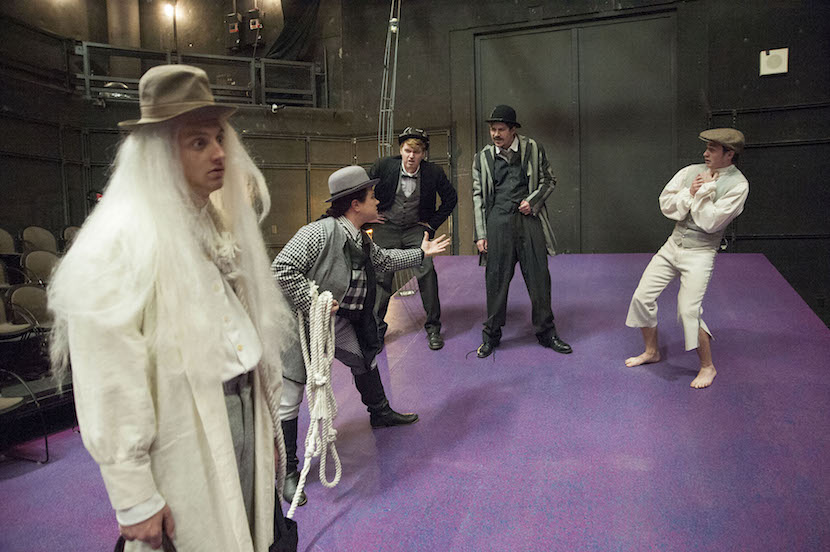 POCATELLO – Students at Idaho State University will venture into absurdism with the performance of Samuel Beckett's "Waiting for Godot" on April 15, 16, 21, 22 and 23 in the L.E. and Thelma E. Stephens Performing Arts Center.
"Waiting for Godot" presents an abstracted reality, a metaphor of life and existence, as two tramps pass the time while awaiting the arrival of the mysterious Godot. "Waiting for Godot" remains a favorite of audiences and actors worldwide, with recent star-studded London and Broadway productions.
"This play could be the original 'play about nothing' but also about everything," said Norm Schroder, director of the production and ISU School of Performing Arts faculty member. "It is so incredibly written, it's gold."
Although the play features two men waiting, Schroder said it is witty and engaging. And even though you are watching two men seeming to do nothing more than pass the time, it actually passes very quickly.
The cast is made of a variety of students including seniors Sam Lyle, Tanner Morton and Talia Lenker, and freshmen Philip Murphy and Tristan Berg. Schroder believes that this cast will come together greatly and bring the show to life.
"We have a great cast, and had a wonderful pool to draw from," Schroder said. "We were able to find actors who can relate well to the rhythms and linguist complexities of this type of play."
The performance will be held in the Black Box Theatre in the Stephens Performing Arts Center, which has been transformed by faculty member Brent Harwood, and students. Schroder said the stage has an interesting tweak, but wants audience members to see for themselves. The costumes have been designed by graduate student Collin Wintz.
"Waiting for Godot" opens on April 15, with additional performances on April 16, 21, 22 and 23 at 7:30 p.m. Tickets are $15 for adults, $10 for children under 18 and $7 for students. Tickets will be available at the Stephens Performing Arts Center Box Office at 282-3595 or isu.edu/tickets.
---
Categories: