'Muslim/American, American/Muslim' exhibit to open Jan. 12 at Idaho State University Davis Gallery; Opening reception Jan. 20
January 9, 2015
ISU Marketing and Communications
The "Muslim/American, American/Muslim" exhibit will open in Idaho State University's John B. Davis Gallery on Jan. 12 and run until Jan. 30.
There will be an opening reception on Jan. 20 from 6 to 8 p.m. where photographer Robert Gerhardt will give a lecture on his photographs.
Gerhardt took the photographs in mosques and communities in Brooklyn, Indiana, Pennsylvania, New Jersey, Tennessee, Kansas, Virginia and Illinois. He said he wants viewers to see what Muslim American life and religion is like through his photographs.
"I want people to be able to see into the lives of Muslim Americans, and see what they are really like versus how they are portrayed," Gerhardt said.
Daniel Hummel, a political science professor at ISU, advisor of the Muslim Students Association, and the general secretary of the Islamic Society of Southeastern Idaho, said he hopes this exhibit will help people see the human face of Muslims in America that is rarely seen in the media.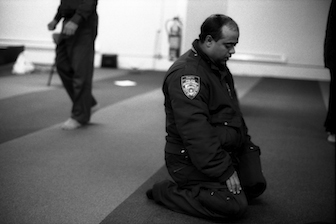 "They have jobs, they volunteer and they pray just like every other American in the United States," Hummel said. "This will help reduce stereotypes of Muslims at ISU, which is desperately needed not just on campus but in the world in general."
Gerhardt became interested in Muslim Americans after reading about a controversy over converting an unused convent into a mosque and community center.
"After following the story in the New York press, I contacted the Muslim American Society about an idea to document the lives of a Muslim population in New York," Gerhardt said.
The exhibition is free and open to the public. The John B. Davis Gallery is located in the basement of the Fine Arts Building on ISU's campus.
---
Categories: