Idaho State University Fulbright Scholar Blanton researches link between blueberries, probiotics and high blood pressure
March 25, 2015
ISU Marketing and Communications
Most of us have heard about the health benefits of blueberries.
Pop a handful into your mouth and you're on your way to providing your body with vitamin-rich antioxidants that can help reduce inflammation and do wonders for your immune system.
Perhaps no one can sing the praises of the wildly popular blueberry better than Idaho State University associate dietetics professor and 2014 Fulbright scholar Cynthia Blanton, who holds a Ph.D. in nutrition from the University of California, Davis.
Blanton's Fulbright experience took her to Canada for four months where she served as a visiting chair in Health and Food Safety at the Institute for Nutriscience and Health at the University of Prince Edward Island. She returned in December.
Blanton's research project, entitled "Enhancing blueberries" health effects with probiotics," focused on determining whether the blood-pressure lowering effect of polyphenol-rich fruits such as blueberries could be increased by a diet supplemented with probiotics.
Probiotics are beneficial live bacteria, some of which can metabolize the polyphenols in blueberries and break them down into bioactive compounds, which demonstrate significant health benefits in people with hypertension, said Blanton.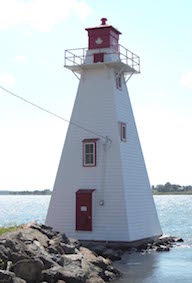 Her hypothesis was that adding probiotics to a polyphenol-rich diet would reduce blood pressure more than either one alone.
Polyphenols are also beneficial for the heart and cardiovascular health, said Blanton.
Blanton reported in her findings that when the blueberries and probiotics were added separately to the diet, they showed a decrease in blood pressure, whereas when they were combined, they seemed to counteract each other's health effects. Blanton seeks to continue her research in order to understand what caused this.
"I believe that using food to improve health is preferable to drugs, when possible. If we can use nutrition and food to help prevent disease and optimize health, then that is a worthy goal," said Blanton.
UPEI does a lot of blueberry research since it is an important economic crop to the area. They also have a prestigious nutrition program and excellent research facilities, said Blanton.
"The Fulbright opportunity to travel abroad and conduct research is such a unique experience," said Blanton, "I see it is as a gift, a blessing, which I took full advantage of."
Blanton said that she had the opportunity to see most of Prince Edward Island, visiting different historical and geographical sites that broadened her Fulbright experience.
"I learned different techniques and different approaches to research. I now have valuable data to publish and disseminate. It's a good launching pad for further investigations into this area and for continued collaboration with UPEI," said Blanton, the ISU Division of Health Science's first Fulbright scholar.
The Fulbright U.S. Scholar Program provides approximately 800 teaching and research grants annually to professionals in a wide variety of fields based on their academic merit and leadership potential. The program was founded by U.S. Senator J. William Fulbright in 1946 and is funded by the Department of State's Bureau of Educational and Cultural Affairs.
---
Categories: