Idaho State University Education Professor Ntuli publishes book on online learning in schools
November 7, 2013
ISU Marketing and Communications
A new book published by Idaho State University Associate Professor Esther Ntuli will provide educators with a better understanding of blended learning methods and styles.
The book, titled "Practical Applications and Experiences in K-20 Blended Learning Environments," is scheduled to be released in December. She co-authored the book with Lydia Kyei-Blankson, an associate professor at Illinois State University.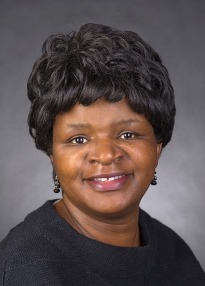 The book offers a snapshot of current variation and efficiency regarding the integration of online content into classroom instruction.
Ntuli, who is in the College of Education Department of Educational Foundations, points out that currently about 55 percent of institutions of higher learning and nearly as many K-12 school districts provide blended learning in some capacity. Blended learning encompasses a very broad spectrum of teaching concepts, but can be summarized as a mixture of both face-to-face traditional instruction and online content.
The book is meant to provide instructors with ample options of blended delivery methods. It compiles techniques that are currently used and successful. It also includes research that indicates blended learning efficiently enhances learning and participation. Blended learning lets teachers provide a more customized approach to each student's preferred learning style.
Ntuli says that both students and instructors tend to favor blended learning techniques. It is not just colleges that are leaning towards making blended learning part of their curriculums. K-12 has also seen significant growth in the use of blended learning. The book reinforces the notion that blended learning works better than either traditional or online settings do on their own. Blended learning allows students face-to-face discussion with students and teachers, and offers easy accessibility by providing online resources that can always be accessed.
"It's something that is used before, during, and after instruction," Ntuli says.
###
---
Categories: