Idaho State University Division of Health Sciences takes aim at Gem State's health care challenges
September 20, 2013
ISU Marketing and Communications
Without a medical school, Idaho ranks 50th in the nation in physicians per capita. Rural areas, particularly, are underserved and those communities are over-represented with elderly patients who are most in need of health care services.
"Just getting to the doctor is not an easy thing for many Idahoans," said Rex W. Force, PharmD, associate dean for clinical research for the ISU Division of Health Sciences Idaho Center for Health Research and director of the ISU Family Medicine Clinical Research Center. "In many instances, we have to look at how we can better utilize the rest of the health care team that, frankly, we do train here at ISU. We have to study those challenges and look at ways of implementing cost-effective health care that works in all areas of the state."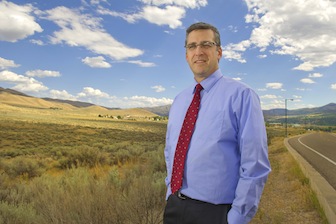 Idaho State University is exploring more effective ways of utilizing the entire health care team, from physicians, physician assistants and nurse practitioners, to nurses, pharmacists and a variety of therapists.
"We have to reach out to underserved populations, whether they are rural residents, ethnic minorities, isolated elderly or the socially or economically disadvantaged," he added.
A major initiative launched to address these and other issues is the creation of the Idaho Center for Health Research, established in fall 2011, and operated by Idaho State University. Its goal is to connect clinicians with researchers, researchers to patients, patients to treatments and improve the overall strength of the Idaho State University Division of Health Science's research activities.
All this is being done with one larger objective in mind: improving the health of Idaho's citizens.
"We are a Division of clinicians and clinical research has to be our bread and butter," Force said. "There are opportunities for funding in the areas of clinical and translational research."
Force is leading efforts to make laboratories out of ISU's clinical practices, whether in pharmacy, family medicine, physical therapy, speech and audiology, or any of ISU's other clinics.
"As clinicians, we are dealing with unsolved clinical problems all the time," Force said, "Our job is moving our professions forward to answer those questions. This is how we become leaders, this is how we become progressive and how we become well known."
Another key to the ICHR's work is creating more partnerships across the state with hospitals, community health centers and large health systems like St Alphonsus and St. Luke's in the Boise Valley.
"We've been long-time partners with the Boise VA (Veterans Administration Hospital) and we need to grow that relationship and others like it," Force said. "There's a lot of great stuff going on across the state and ISU needs to be right in the middle of it, leading it."
To that end, the ICHR in the last fiscal year assisted with submitting 27 grant proposals totaling $4.8 million. The fates of many of those proposals have not been heard of yet, but should be known within the next year.
"It is a slow process to increase grant funding, but we're building the infrastructure within the Division to put together more proposals and make them more competitive"" Force noted. "We have a lot of great faculty on our campuses who have great ideas and we are helping them turn those into competitive proposals."
Collaboration internally and externally is crucial for the ICHR, which is most active through the ISU Pocatello and ISU Meridian campuses. Partnerships within ISU's Division of Health Science programs are necessary. Externally, as noted above, ISU will need to team with private and public health care providers. Beyond that, ISU is also trying to forge research relationships with academic institutions and health providers in neighboring states.
"The whole idea is to facilitate researchers and provide more resources, develop ideas, and identify funding mechanisms and partnerships, Force said.
###
---
Categories: