Idaho State University bronze bell used during commencement christened with ornately woven bell rope
May 2, 2012
ISU Marketing and Communications
Just in time for the Idaho State University March through the Arch and commencement ceremonies May 4 and 5, the University's bronze bell has been christened with an ornate, hand-woven bell rope, similar to the types of bell ropes that sailors wove from hemp rope on tall-mast sailing ships.
Sarah Nathan, a chemistry and biochemistry major, wove the bell rope from 3/8-inch braided nylon, black and orange. The previous bell rope was a ratty piece of line that would have caused angst among even the crustiest of sea dogs.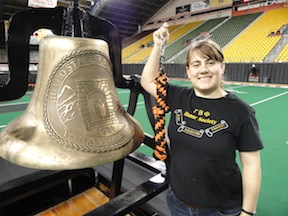 Nathan learned how to tie these intricate knots by studying books such as "The Ashley Book of Knots" (1944) and Budworth's "Complete Book of Decorative Knots" (1998).
As sailing ships were replaced with fossil-fuel powered ships, tying bell ropes has become a lost art. She began the bell rope with a four-strand braid followed by a double diamond, a right-hand crown sennit braid, a star knot, a left-hand crown sennit braid, a Matthew Walker knot, and finished with a man-rope knot.
"The Matthew Walker knot is composed of a series of the simplest knot there is, the over-hand knot, yet it is one of the most complex knots to tie," Nathan said.
She studies modern topics such as biochemistry as well as ancient topics such as hand-hewn bows and the art of tying bell ropes. She will begin work on her doctoral degree in chemistry at Cornell University in August.
The brass bell with its new bell rope will be rung during graduation ceremonies and during the March to the Arch.
The 512-pound bronze bell that sports the University's Official Seal was created in 2005 by ISU art Professor Doug Warnock and two of his students.
###
---
Categories: