Idaho State University School of Nursing, theatre department team up to produce realistic trainings
November 21, 2012
ISU Marketing and Communications
Artfully applied makeup, Joy detergent used to look like mucus, and special vomit made from corn, instant tea, oatmeal and parmesan cheese are among the finishing touches applied and given to volunteers and manikins to help provide realistic training scenarios for nursing students at Idaho State University.
And don't forget the acting by volunteers, who take their roles seriously as patients suffering from various illnesses.
The ISU Department of Theatre is collaborating with the ISU Department of Nursing to help add realism for training sessions held in the ISU School of Nursing's simulation laboratory.
That collaboration within ISU also assisted an external collaboration between the ISU School of Nursing and Southeastern Idaho Public Health, which recently teamed up to hold epidemiology exercises to train nursing students on identifying communicable diseases to help prevent large breakouts.
"It's real people in a simulation world," said Kathy Reynolds, an epidemiologist for Southeastern Idaho Public Health who participated in two training simulations at ISU this week. "But it is a very realistic simulation world and the students are learning how to recognize the illnesses and take the proper steps to stop their spread."
The scenario presented in the simulation lab, which is a model of a medical clinic, was of eight patients with differing diseases. The patients were dressed in character, had makeup applied to help show their symptoms and were scripted on how to act out their symptoms for the nursing students to interpret.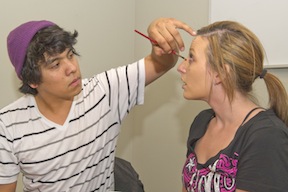 The lab also has manikins that can be programmed, and are also made-up by ISU theatre students to present different disease symptoms. Although the actors and manikins were allegedly suffering from diseases from hepatitis A to tuberculosis, the exercise was organized to see if the students could recognize and triage a Pertussis, or whooping cough, outbreak.
"These simulations are very important because it is now harder to gain access to clinical sites and they provide important training for our students," said Deb Reiland, ISU clinical assistant professor of nursing, whose nursing students participated in the exercises this week. "We actually have manikins that can cough, blink and bleed. We can use a touch-screen to program their vitals and we can talk through the manikins from another room.
"However, manikins are not real people," continued Reiland. "With the help of volunteers, many with medical backgrounds and who know the diseases they are portraying and get very much in character as patients, the students have a much more realistic experience."
There are cameras throughout the laboratory filming, so students can be critiqued by their instructors and themselves by watching how they performed.
Senior nursing student Michelle Sorenson talked about the benefits of participating in the training.
"It is a great learning experience," Sorenson said. &t;It's relatively realistic and it gives us hands-on experience thinking through a situation. It's nice to be able to see what was done and what should have been done in a controlled environment before we get out in the real world."
The collaboration has benefits for the theatre students as well.
"Working on other people for an exercise like this makes you work harder to be creative," said Jordan Tanner, a political science major who was a minor in theatre and was among the student makeup artists on hand who is in a stage makeup class. "Because I'm not a health science major I had to look up the symptoms of the diseases the patients are supposed to have. I looked up the side effects of pneumonia and tuberculosis. I know what those things look like now."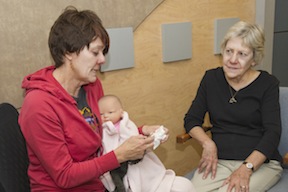 The collaboration between the ISU School of Nursing and the ISU Department of Theatre began last December after Kathy Olsen, a recently retired nursing professor who remains active with the school, contacted Tara Young, ISU director of theatre, to see how the theatre department could help make simulation experiences more realistic. Since then the two departments have been working together on various training exercises at the simulation laboratory, creating patients suffering from anything from heart attacks to gunshot wounds.
"Anytime you have two groups from different disciplines working together you create a positive learning experience," Young said. "The theatre students learn how to do all types of makeup for the stage, but this helps them have a better understanding of what they can do and expands their repertoire."
The makeup and acting by volunteers has improved the quality of the trainings.
"The results have been tremendous," Olsen said. "Putting students in a real-life environment is very beneficial because it elicits an intellectual and emotional response from the students coupled with the consequences of their interventions, which we could not allow them to do in the hospital. Students don't get that studying a book."
In addition, the simulation laboratory provides an opportunity for the students to experience many types of patients that they may not see during their clinical rotations in the hospital, specifically pediatric and hospice patients.
The School of Nursing is looking for more volunteers to participate in its simulation exercises that occur at intervals throughout fall and spring semesters. People interested in volunteering can contact Elizabeth Damstrom, ISU School of Nursing clinical assistant professor who runs the simulation lab, at 282-2460 or damseliz@isu.edu.
The next training involving the two departments is set Nov. 30.
###
Media Contacts: Deb Reiland, Clinical Assistant Professor of Nursing 282-2269 or reildebr@isu.edu; Tara Young, Director of Theatre/Associate Professor, 282-5616 or johntar2@isu.edu
---
Categories: