ISU Reading Project welcomes Temple Grandin, one of Time's most influential people, on March 9
February 16, 2011
ISU Marketing and Communications
Temple Grandin, named one of the 100 most influential people in the world by Time magazine in 2010, will speak at 7 p.m. Wednesday, March 9, at Idaho State University.
Grandin, who will appear as an ISU Reading Project guest lecturer, will speak on her unique life story and her contributions to research and inventions toward autism and animal welfare. Her lecture, which has sold out, will take place in the Jensen Grand Concert Hall in the Stephens Performing Arts Center.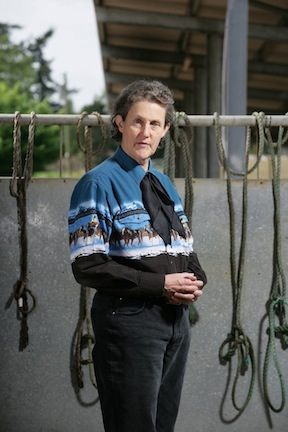 This event is free to the public, but tickets were issued to prevent over-booking. All event tickets were distributed within a few hours after they were made available.
The ISU Reading Project consists of a series of events geared toward encouraging interest, discussion and debate between readers. This year the novel, "The Curious Incident of the Dog in the Night-Time" by Mark Haddon, winner of the 2004 Commonwealth Writers' Prize for Best First Book, was chosen by the committee.
The book is centered on the young, autistic main character, Christopher, and his attempt to uncover the mysterious death of a neighbor's dog. With Christopher's unique viewpoints on human nature and emotions and strong analytical skill, the book gives insight to an autistic mind and fills the story with unexpected turns.
Temple Grandin was born with autism and has been an advocate for early intervention based on her own personal experience for many years. As a strong believer in neurodiversity, Grandin embraces her autism and has become a role model for younger generations. She has said, "If I could snap my fingers and become non-autistic I would not do so. Autism is part of who I am."
Grandin received her bachelor's degree in psychology from Franklin Pierce University, a master's degree in animal science from Arizona State University and her doctorate in animal science from the University of Illinois at Urbana-Champaign. She also received an honorary doctorate of humane letters from Duke University in 2010.
Grandin is well-known for inventing the "Hug Machine," a device designed to calm hypersensitive persons with the application of pressure to simulate a hug. She is also well-known for her efforts in reducing stress in animals being led to slaughter as she designed sweeping curved corrals.
Grandin's life story was turned into an HBO film called "Temple Grandin," which was released in August 2010 and starred Claire Danes. It was nominated for 15 Emmys and won seven. As part of the ISU Reading Project, Grandin will speak on how this and other events have affected her life.
For more information visit www.isu.edu/tickets/ or call 208-282-3595.
###
---
Categories: