Idaho State University doctoral grad to engage in lung cancer research at prestigious MD Anderson Cancer Center
February 15, 2011
ISU Marketing and Communications
Idaho State University doctoral recipient Vikas Bhardwaj has been accepted for a post-doctoral fellowship to engage in lung cancer research at one of the world's preeminent cancer-research institutions, the University of Texas MD Anderson Cancer Center in Houston, Texas.
Bhardwaj, who finished his ISU pharmaceutical science doctoral dissertation on Feb. 11, leaves for Texas at the end of this month.
"We're very honored that Vikas has been accepted to do cancer research at the MD Anderson Cancer Center, one of the best cancer research institutions in the United States and in the world," said Alok Bhushan, ISU professor of pharmaceutical sciences and Bhardwaj's major advisor at ISU.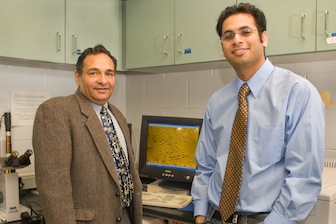 According to the center's website, its hospital has been ranked No. 1 in cancer care seven of the past nine years in the "America's Best Hospitals" survey published by U.S. News & World Report. The MD Anderson Cancer Center had more than a half-billion dollars in cancer research funding in fiscal year 2010.
"It feels good knowing the work you do is helping to offer cures and treatments for cancer," said Bhardwaj, 27, a native of New Delhi, India. "I was thrilled when I was accepted by the Anderson Center."
While he was at ISU, Bhardwaj teamed with Bhushan and other ISU College of Pharmacy researchers to study pancreatic cancer.
"Sufferers of pancreatic cancer have poor survival. Only 4- to 5-percent survive five years after the cancer is diagnosed," Bhushan said. "We don't have drugs that effectively treat pancreatic cancer, because the cancer cells don't respond to them."
Bhardwaj and his ISU colleagues examined ways to overcome the pancreatic cancer cells' resistance to administered drugs. Bhardwaj's work at ISU included identifying a new set of pancreatic cancer cells that were resistant to drugs. This new line of cells can serve as models for other researchers to help in understanding the disease. Researchers study resistant cells to try to determine strategies to overcome the resistance, and to find effective combinations of drugs to use for treatment.
A contingent of ISU pharmaceutical science researchers involved with cancer research will present four research poster presentations at the annual meeting of the American Association for Cancer Research in Orlando, Fla., in early April.
Bhardwaj credited the ISU College of Pharmacy for preparing him well for his next stage of work at the MD Anderson Cancer Center.
"The foundation in research and the training I received here in experimental skills, oral presentations and writing has been invaluable," Bhardwaj said.
The ISU pharmaceutical science graduate research programs are very competitive: about 150 applicants vie for the four to eight master's and doctoral slots offered annually by the department.
For more information on the ISU pharmaceutical sciences program, contact Bhushan at bhusalok@isu.edu or 208-282-4408.
###
---
Categories: