Idaho State University professor Pfau uses NIH grant to explore effects of asbestos exposure
May 14, 2010
ISU Marketing and Communications
Idaho State University's Jean Pfau, assistant professor of biological sciences, has been awarded a $191,962 U.S. National Institutes of Health grant to explore the health effects of asbestos at the cellular level.
"We're trying to understand the way asbestos affects the immune system leading to systemic autoimmune disorders, such as lupus," Pfau said.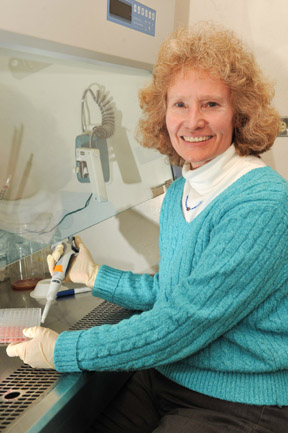 Understanding this, researchers may eventually be able to reduce the negative effects of asbestos exposure or better treat autoimmune diseases caused by asbestos exposure. Autoimmune disorders such as rheumatoid arthritis and lupus have been found to occur more frequently in people who have been exposed to asbestos, particularly that type of asbestos produced from the vermiculite mines near Libby, Mont.
The grant, titled "The Role of System xc in Asbestos-Induced Autoimmune Responses" funded by the National Institute of Environmental Health Sciences (part of the NIH) will last two years and funds Pfau and three ISU undergraduate researchers.
"Our grant will explore the changes in molecules on the surface of immune cells that occur in response to asbestos exposure, which we hope will help us understand some of the cellular events that lead to autoimmune diseases."
Pfau and her colleagues will look at the possibility that glutamate amino acid is a signaling molecule in the immune system.
"We know the impacts of glutamate as a signaling molecule in the brain, but it is novel to think of it as a signaling molecule in the immune system," Pfau said.
The cells that first encounter asbestos after exposure are white blood cells called macrophages. Pfau believes that macrophages may use glutamate to signal the immune system to react, driving the immune system. However, after exposure to asbestos, Pfau theorizes that the macrophages engage in mistaken signaling, causing the immune system to become overactive and produce excessive antibodies, creating diseases such as lupus – a disease that causes the immune system to mistakenly attack healthy cells and tissues.
She will also look at how different forms of asbestos affect the immune system. Building asbestos, for example, is not known to dramatically increase the risk of autoimmune disorders, but can increase cancer rates. Specific types of asbestos, such as those that are byproducts of mining activities, appear to be much more toxic to the immune system.
Pfau, who has finished several previous studies on asbestos, is also currently working on another asbestos-related grant she received last fall, working with the Mount Sinai School of Medicine in New York City, the University of Montana, the Libby, Mont., Center for Asbestos Related Disease and a national scientific advisory group. This research project is supported by a grant of more than $4.8 million from the Agency of Toxic Substances and Disease Registry of the federal Center for Disease Control and Prevention.
Pfau's part in this latter program will be comparing the production of blood serum antibodies among Libby residents who were exposed to asbestos only in their environment (and not at their place of employment) with antibodies seen in workers with historically long-term, heavy exposure to common commercial forms of asbestos. Pfau's laboratory is receiving $290,893 over five years to complete this project.
###
About Idaho State University
Idaho State University, a Carnegie-classified doctoral research institution founded in 1901, educates approximately 14,000 students per year in more than 280 programs. It is Idaho's lead institution in health professions and medical education. Its seven colleges engage in a broad range of innovative research, teaching, and learning in the natural and physical sciences, humanities, performing and visual arts, education, engineering, business, pharmacy, and technology. Visit ISU today at www.isu.edu.
---
Categories: