Idaho State University, Dell computer team up to increase student achievement with eastern Idaho K-12 educators
June 1, 2010
ISU Marketing and Communications
The Idaho State University College of Education and Dell are teaming up to provide east Idaho K-12 teachers and administrators with a proven, comprehensive teacher-training model that improves student achievement.
The College of Education's Intermountain Center for Educational Effectiveness has had to cap enrollment at 350 participants for its Total Instructional Alignment Conference running June 7-11 at the ISU Pond Student Union. Dell will provide computer technology and support for 70 teams of educators from 52 schools districts in Southeast Idaho.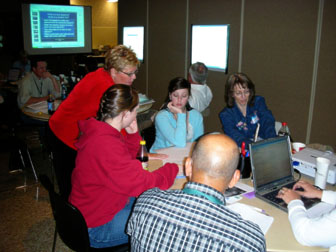 These teams will be learning and implementing the Total Instructional Alignment (TIA) teaching model, which aligns standards with curriculum, curriculum with instruction, and then assesses how effectively the standards have been met.
"This model of teaching looks at the big picture of student achievement and incorporates standards, curriculum, instruction and assessment into a strategic, logical program," said Susan Jenkins, associate director of the Intermountain Center for Educational Effectiveness, and director of the TIA project. "Classrooms, schools and districts that have implemented this program have shown a measurable improvement in their Annual Yearly Progress Reports as mandated by the state under the No Child Left Behind Act. We're thrilled that Dell is joining us in efforts to expand the program's use."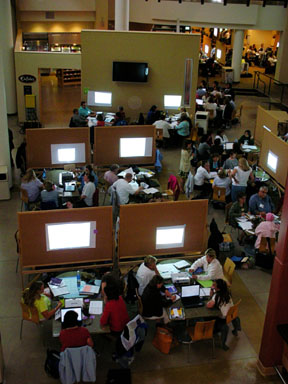 Dell is loaning ISU about $100,000 in technical assistance for the event, providing a laptop computer with wireless cards and basic projectors to each team of educators. The teams, which are organized by content area and grade level, will use software and the technology to develop "Total Instructional Alignment" instructional documents that they will use as roadmaps for their class instruction and assessment for the upcoming academic year. These documents have become a pivotal instructional tool for participating districts and are routinely used in professional development workshops and classrooms.
As important as the financial and technical support Dell is providing, however, is the collaboration between the educators gathered and the Dell representatives who will provide technical solutions to the challenges facing educators.
"Technology alone will not fix teaching problems, we already know that," Jenkins said. "The proper technology has to be married to the appropriate teaching methods to improve results. Dell is joining us to help create a cutting-edge classroom, to come and mentor us on how to use technology to reach the ultimate goal of increasing student achievement."
The technology keynote speaker for the conference is Snow White, Dell Global Professional Learning Manager, who will deliver a presentation entitled "How Information is Changing the Teaching and Learning Environment" at 10:45 a.m. Tuesday, June 8. Her comments will detail Dell's efforts to transform teaching and learning in the primary and secondary education community through the Dell's Connected Classroom, which is designed as an "entire learning ecosystem."
Another company, Tabula Digita, will have a representative, Thomas L. Brown, at the conference demonstrating innovative educational video games, including the award-winning DimensionM math game.
Stoneware will also have a representative, Russ Orvin, at the conference demonstrating how schools can build their own 'private' cloud for simplified access to all their applications and services.
The conference will be facilitated by Lisa Carter, a former elementary teacher and administrator, and now internationally-recognized trainer, who developed the TIA program in response to the No Child Left Behind Act. Regarding her reasons for creating the TIA model, Carter believes that given the oft ambiguous language of state standards, many teachers don't feel that they are teaching what they are supposed to be teaching and what they are assessing.
This is the second Total Instructional Alignment conference the ISU College of Education has held during 2010. In April, a conference was delivered to train district team leaders on the TIA model. The facilitators are now returning with teams of teachers and/or administrators whom they will mentor on the implementation of Total Instructional Alignment.
For more information on the Total Instructional Alignment program, visit http://icee.isu.edu/TIApages/TIAhome.html.
###
About Idaho State University
Idaho State University, a Carnegie-classified doctoral research institution founded in 1901, educates approximately 15,000 students per year in more than 280 programs. It is Idaho's lead institution in health professions and medical education. Its seven colleges engage in a broad range of innovative research, teaching, and learning in the natural and physical sciences, humanities, performing and visual arts, education, engineering, business, pharmacy, and technology. Visit ISU today at www.isu.edu.
---
Categories: