Idaho State University/Idaho National Lab nanoparticle project receives prestigious R&D 100 Award
July 22, 2009
ISU Marketing and Communications
Idaho State University researchers René Rodriguez and Joshua Pak, who worked with Idaho National Laboratory researcher Robert Fox, were among those honored with an R&D 100 Award on July 20 for their work with precision nanoparticles.
The editors of R&D Magazine announced the winners of the 47th Annual R&D 100 Awards, which will be formally presented at an Awards Banquet in Orlando, Fla., on Nov. 12. These awards salute the 100 most technologically significant products introduced into the marketplace over the past year, according to R&D Magazine.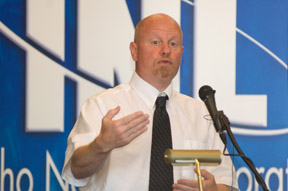 The INL was awarded three R&D awards this year that were announced at a press conference Tuesday, July 21, at the Center for Advanced Energy Studies in Idaho Falls.
Rodriguez and Pak, both ISU chemistry professors, worked with Fox on developing precision nanoparticles, which are very small units of matter. The revolutionary technology these researchers created efficiently produces nanoparticles in uniform and precise sizes, which are being studied for use in alternative energy systems and variety of other applications. The precision nanoparticle technology has been licensed to Precision Nanoparticles, Inc., of Seattle.
"This is a great example of how scientists from the Idaho National Laboratory and Idaho State University can work together to create a real impact in science," Pak said.
Fox shared Pak's observation.
"When Idaho National Laboratory researchers and researchers from academia get together good things will happen," Fox said.
The Center for Advanced Energy Studies (CAES) provided a Laboratory Directed Research Development Grant that provided the seed money for the project and CAES further supported the project through the organization's shared faculty program with Idaho State University. CAES is a public/private partnership comprised of the three Idaho public universities, private industry and the Idaho National Laboratory.
The collaborative nature of projects such as this are beneficial in a number of ways. For one, it brings research projects from entities like the Idaho National Laboratory into the marketplace where they have great practical, technological and economic impact. This collaboration also has a beneficial effect for academia.
"Another valuable aspect is the development of the students working on this research project," said ISU chemistry chair Robert Holman, who spoke at the INL press conference. "It goes even beyond the immediate technology, which has great value in and of itself, to the development of well-rounded future scientists who will, we hope, produce more great research and technology down the road."
INL researchers won two other R&D 100 awards. Awards were given to INL researchers who created a "Water Sample Concentrator," which is an automated portable device that concentrates and packages a sample of suspected contaminated water for safe, efficient transport to a qualified analytical laboratory. This technology will help safeguard against pathogen contamination or chemical and biological attacks on water supplies.
An award was also given to RFinity – Mobile Open-Encryption Platform, an innovation that offers a low-cost, plug-n-play option that enables virtually any wireless telecommunications device to safely store sensitive personal information and perform secure transactions.
"The Department of Energy's national laboratories are incubators of innovation, and I'm proud they are being recognized once again for their remarkable work," said Energy Secretary Steven Chu. "The cutting-edge research and development being done in our national labs is vital to maintaining America's competitive edge, increasing our nation's energy security and protecting our environment. I want to thank this year's winners for their work and congratulate them on this award."
---
Categories: