Retiring professor cites HIV/AIDS education work as a career highlight
May 15, 2008
ISU Marketing and Communications
Among the highlights of his 36-year career at Idaho State University, retiring biological sciences professor of microbiology Larry Farrell, Ph.D., cites his efforts as a volunteer HIV/AIDS educator and the open, collaborative nature of his department.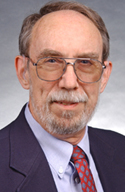 Farrell has spent more than 20 years volunteering his time as an HIV/AIDS educator, giving more than 700 public presentations on HIV. In 1989, he developed an HIV/AIDS course at ISU that was initially offered once a year. When 120 students registered for the course, he decided to offer it each semester; it has averaged 70 students per semester for the past 10 years.
He is a member of the Idaho Advisory Council on HIV and AIDS, having served on that council since its inception in 1993. In 2005, he was one of 10 people in the United States recognized as an Outstanding Prevention Educator in TheBody.com's HIV Leadership Awards program. He has been actively involved at the regional and state level with various agencies engaged in HIV prevention programs. Farrell is currently involved in a strategic planning effort for Southeast Idaho HIV prevention and care.
"Personally, the biggest thing I look back on during my career has been the HIV/AIDS work I've been involved with," said Farrell, the recipient of the ISU 1990 Distinguished Public Service Award. "I would not have been able to do that work if public service was not an essential part of faculty responsibility at ISU."
On a broader level, Farrell said he has enjoyed working with both students and faculty at Idaho State University.
"I've enjoyed the interaction with undergraduate- and graduate-level students involved in the major," Farrell said. He was recognized as an ISU Master Teacher in 1992. "A lot of them go on to achieve some major accomplishments, and you play some role in that development, and that is satisfying."
Farrell, a native of Mooreland, Okla., earned his Bachelor of Science and Master of Science degrees in microbiology from the University of Oklahoma, and his Ph.D. in bacteriology from the University of California at Los Angeles. Farrell was a postdoctoral fellow at the University of Illinois College of Medicine 1970-72. He came to Idaho State University in 1972 planning to just stay a few years before moving on, but both ISU and southeast Idaho were a great fit.
"I've been working with really good people for the last 36 years," he said. "The air of collegiality here is incredible. There are not barbed-wire fences keeping you out of other professors' labs or offices. Everybody gets along and works together and there is a lot of opportunity for intellectual interaction here."
An example of that interaction is Farrell's involvement with an interdisciplinary group of researchers who have been studying E. coli bacteria in Idaho. Farrell plans to continue his collaborations with this group. His vita lists a wide variety of publications, from those focusing on microbiology to those on HIV/AIDS education.
Besides his teaching, public service and research activities, Farrell was also chair of the ISU Department of Microbiology and Biochemistry 1977-84 and was the assistant chair of the ISU Department of Biological Sciences 1988-90.
---
Categories: