'Mr. ISU' Earl Pond leaves lasting legacy
July 22, 2008
ISU Marketing and Communications
Earl R. Pond, known locally as 'Mr. ISU' and for whom the Idaho State University Pond Student Union Building is named, died Monday, July 21, from a sudden illness.
"We are truly grateful to Earl Pond for his leadership and commitment to Idaho State University and our community," said Arthur C. Vailas, ISU President. "He will truly be remembered for his accomplishments and contributions to student life."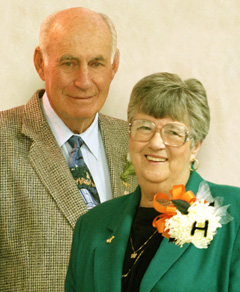 Pond, 84, held a variety of positions at Idaho State University, where he worked for 33 years. He was also active in public service in the community. He held public offices for more than 24 years, including three-and-one-half years as the mayor of Pocatello and served many years on the Pocatello City Council.
But more important than his accomplishments, according to many of his friends, was his demeanor and outlook.
"Everybody on the campus knew him and he was just a great guy to be around," said Babe Caccia, former ISU athlete, coach and athletic director. Caccia, then head ISU football coach, met Pond as a player on his team in 1946.
"He was a great guy for jokes and stuff, and always brought laughter and a little sunshine to the group," Caccia said. "When he came around he always brought a smile and a laugh. We're going to miss him."
A native of Filer, Idaho, Pond began his long affiliation with Idaho State University as a student, enrolling in 1941. After serving in the U.S. Marine Corps in World War II in Guam and China, he returned to ISU in 1946. He received his bachelor's degree in accounting and pre-law in 1949.
Highlights of his college career included helping to found one of ISU's best-known fraternities, Phi Sigma Kappa, and playing on the football team on both offense and defense for three years.
"He was just a good, all-around football player who could tackle and block," Caccia said. "
Pond was the athletic business manager from 1949 to 1959. He was also graduate manager until 1959 and was general manager of the Associated Students of ISU, was in charge of the bookstore, and was in charge of the Student Union Food Services. He then became manager of the Student Union, a position he held for more than 23 years, and was also general manager of ASISU during that time.
His influence on the University is immeasurable and widespread.
"One of the important things to mention about Earl was that he always had a vision of 'where we need to go from here,'" said Ernie Naftzger, currently a development officer in ISU Student Affairs. Naftzger had a 17-year working relationship with Pond that began in 1966, and has been a close friend to Pond since he retired from ISU in 1982. "He was always looking for ways of improving what we were offering and doing things for students."
Pond was also instrumental in helping to create everything from the establishment of the ISU outdoor programs and the Early Learning Center, to creating the commuter bus service for students, Naftzger said.
"It was amazing what he could get done because of all his political contacts and his relationships with so many people in the community, which enabled us to do things that otherwise might be difficult to do." Naftzger said. "He always knew the people who could help us get things done. Even if we just needed equipment to put on show, you could just call Earl and he'd know someone to talk with to get it."
Idaho State University bestowed many honors on Pond. They included his induction into the ISU Sports Hall of Fame in 1960 and the William J. Bartz Award in 1979. The latter award is an honor given at ISU Homecoming to those who offer continued support and development of Idaho State University through personal actions, participation in University affairs and financial support.
Pond also was a past president of the ISU Alumni Association Board of Directors. The Earl R. Pond Student Union Building was named in his honor in 1985.
Pond met his future wife, a pharmacy major Mary T. Fogg, while attending college. The couple raised four children, three of whom graduated from ISU. Earl and Mary have supported the Bengal Foundation, the Freshman Scholarship Fund and the College of Education.
He was a member of various commissions and served as chairman of the Pocatello Regional Medical Center Health Care Foundation Board of Directors. The Idaho Statesman newspaper gave him its "Distinguished Citizen" award.
---
Categories: