Facilities Services Associate VP retires after 26 years at ISU
May 1, 2008
ISU Marketing and Communications
Darrell J. Buffaloe, associate vice president for Facilities Services, is retiring June 30 after 26 years at Idaho State University.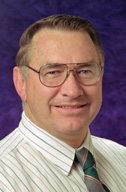 Buffaloe came to Idaho State University in May 1982 as motor pool superintendent. In 1985 he was promoted to assistant director of what was then Physical Plant. He then became director a few months later. He was promoted to associate vice president two years ago.
"What I appreciate at ISU more than anything, was working with faculty, staff and students," Buffaloe said. "That, by far, has been the best part of my job."
Since coming to Idaho State University, Buffaloe has seen the student population grow from about 5,000 to more than 13,000. He has helped oversee the construction of a wide variety of ISU facilities, from the completion of the Rendezvous Complex and the L.E. and Thelma E. Stephens Performing Arts Center, to the new addition to the Physical Sciences Building and the renovation of Davis Field. Campus changes and additions have been many during his tenure.
"The whole campus has changed since I started here," Buffaloe said.
Buffaloe has spent 36 years of his life in the military, including 10 year's active service in the Army and another 26 years with the National Guard. His Army service included a 1968-69 tour of duty in Viet Nam, when he served as an adviser for a civil affairs team that work with the largest resettlement camp near the Cambodian-Laotian border. While in the military, Buffaloe earned a Bronze Star and The Legion of Merit.
"The tour in Viet Nam gave me some perspective," Buffaloe said. "When I got over there I realized you can lose your life real quick. Other than that, there's not much to worry about."
For the past 10 years Buffaloe has been an adjunct faculty member of the ISU Human Resources Training and Development Department in the College of Technology. He has a master's degree in occupational training. At age 62, he is leaving ISU to take over as the chair of the Department of Trade and Industrial Education at the College of Southern Idaho in Twin Falls.
"I love ISU and I have mixed emotions about leaving here," Buffaloe said. "I'm sad to be leaving, but excited about the new challenges ahead."
---
Categories: