ISU sociology professor, son team up to write book on phenomenology
November 4, 2008
ISU Marketing and Communications
Idaho State University sociology professor James Aho, Ph.D., and his son, Kevin Aho, Ph.D., an assistant professor of philosophy at Florida Gulf Coast University, have teamed up to write the book "Body Matters, A Phenomenology of Sickness, Disease, and Illness."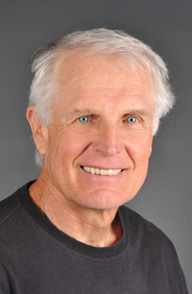 This book is an examination of how bodily ailments are experienced – seen, thought and felt – by three different audiences," James Aho said.
Those audiences are physicians, who experience them as diseases to be cured; society, which understands them as sicknesses to be corrected; and patients, who suffer them as illnesses, he said.
"Disease, sickness and illness are not entirely separable, but they are distinguishable," Aho continued. "Thus a person can be diseased, yet not feel ill; be ill, but have no clinically identifiable disease, or be considered to be sick, yet be neither strictly diseased or ill."
According to the book's authors, the dominant view of bodily ailments is now biomedicine, while the other two ways of viewing ailments "is being marginalized." The book examines the details and repercussions of the new dominate view.
James Aho said the idea for the book germinated "through the years" when he and his son engaged in wide ranging discourse while they were in Idaho's mountains skiing, backpacking and hiking. The book was completed during James' sabbatical in 2006.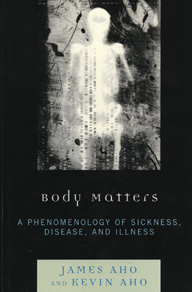 "We conversed a lot about phenomenology, and in part, because of these conversations my son decided to major in contemporary European philosophy as a 'phenomenologist' with an interest in social theory," James Aho said. "Whereas I teach social theory and over the years have developed an interest in phenomenology. You can see how these interests meshed."
James is using the book as part of the reading in his ISU class "Sociology of Health and Illness," while Kevin is using it as part of the reading in "Phenomenology of the Body" at FGCF.
"The book is written for a pretty wide audience, for any interested lay person who is interested in health and illness," James said. "It is written in non-technical language and you do not need to be a specialist to understand what we're getting at," James said.
The ISU professor has published widely and is probably best known for his book, "The Politics of Righteousness — Idaho Christian Patriots," a study of a number of hate groups, including an Aryan Nation group in northern Idaho. He has taught at ISU since 1969-70.
The book is published by Lexington Books, a division of Rowman & Littlefield Publishers, Inc.
The book is available at the ISU Book Store, online from Rowman & Littlefield Publishers at www.rowmanlittlefield.com, or through online booksellers such as amazon.com. The book's price from the publisher is $60.
---
Categories: