Idaho Museum of Natural History features new faces, programs
August 28, 2008
ISU Marketing and Communications
Idaho Museum of Natural History, located on the campus of Idaho State University, has announced several personnel changes and a greater emphasis on research in its mission. The museum also is going through its accreditation process this academic year.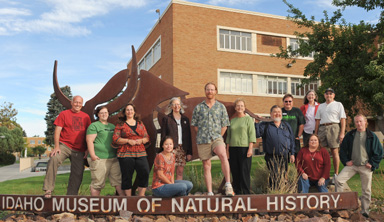 Ernest "Skip" Lohse, Ph.D., has been named acting director, replacing interim director Jennifer Fisher, who retired from the University. Lohse was interim director of the museum from 1999-2003.
Rebecca Thorne-Ferrell has been promoted to the title of assistant director of the museum. She was previously the education resource coordinator for the IMNH.
"President Vailas has given me the charge to reinvigorate and transform the museum into a significant research arm of the University, while maintaining its public programs and the active care of its collections," Lohse said.
Lohse is steering the Idaho Museum of Natural History through its accreditation review process through the American Association of Museums that will be taking place in upcoming months.
Since the beginning of the new fiscal year the museum has been partially reorganized and features five employees who are newly hired or have changed job titles. Those new employees are Mary Moses, office administrator; Vicki Fanning, financial technician; Lynn Murdock, registrar; Teresa Nelson, moved from part time to full time marketing manager; and Amy Commendador-Dudgeon, archeology repository manager.
"We've reorganized and added some new people, which will help us better deliver our services," Lohse said.
The museum also is offering a number of new programs and is in the planning stages for celebrating its 75th birthday in January. It is looking for volunteers and support for its celebration.
New programs being offered include more field trips for IMNH Friends members and the public to relatively close-in spots such as the Flat Ranch at Harriman State Park in September, to visits to the archeologically rich Gault Site near Austin, Texas, coming up next summer.
The museum will continue to offer kids' classes and is partnering with the Idaho State University gallery walks the first Monday of every month (although September's gallery walk is on Tuesday, Sept. 2, because of the Veteran's Day Holiday) by offering new, unique displays each month of new and old museum collections.
The museum will also begin offering "County Free Days" on the third Saturday of the month, offering free admission to residents of surrounding counties, alternating from one county to another. For example, one month Power County residents would have free admission, then the next month Bingham County residents would have that perk.
Lohse said he also wants to work hard with the ISU campus community to improve on and offer new services.
"We want to cement ties with departments that represent divisions in the museum and find ways to be good partners and be more useful to them," Lohse said. "We encourage members of the campus community to contact us for special programs and tours."
He also said the museum has classroom and meeting space available for use.
For more information on Idaho Museum of Natural History programs, call (208) 282-3168 or visit the Web site http://imnh.isu.edu/.
---
Categories: