Pumphrey, Kilpatrick retire from College of Business
December 6, 2006
ISU Marketing and Communications
Two longtime Idaho State University College of Business Professors, Drs. Lela "Kitty" Pumphrey and John Kilpatrick, will retire from their careers with the college this month at the end of the fall semester.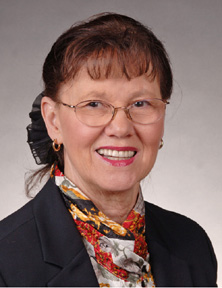 While Pumphrey is leaving the college following 18-years here, she says she is not ready to retire from teaching and has accepted a three-year contract to teach accounting courses at Zayad University in the capital city of Abu Dhabi in the United Arab Emirates.
Originally planning to finish her teaching career at ISU, Pumphrey says the chance to be part of educating women in a Muslim country and experiencing the culture is very appealing.
"I love ISU, and teaching here has been a good experience for me," she said. "I would not leave to go to another university, this is just an opportunity to pursue my love of other cultures."
A colleague from another western university, who is serving as the dean of the school of business at Zayad, offered Pumphrey the chance to join the faculty at the all-female university, teaching auditing and managerial accounting courses.
"I've always supported women's opportunities, and the fact that a Muslim country is educating its women is a great opportunity, not only for me, but for my students," she said.
During her tenure with the college, Pumphrey's teaching and research areas have focused primarily in the areas of governmental accounting, financial statement auditing and financial accounting.
A member of several academic and professional associations, Pumphrey is well known here for her involvement in the Idaho Republican Party where she has held several key positions.
Pumphrey and her husband, Norman, will leave for the United Arab Emirates in mid-January.
Dr. John Kilpatrick says working with scholarly faculty and students has been one of the highlights of his 23-year tenure with the college's Management Department.
"This is the most collegial college of business that I have known," he said.
Kilpatrick left the college from 1982 to 1988, when he taught courses in western Idaho and Colorado.
"One of the reasons I returned to ISU is that the college has always been able to attract really qualified students and faculty," he said. "I've been able to work with a lot of wonderful students who have a good work ethic."
While at ISU, Kilpatrick's teaching and research areas have focused primarily on business policy and strategy; issues in business and society and business ethics and international business.
In fact, he says teaching the concepts of international business to international students and Idaho residents together has created enriched conversations in the classroom.
Kilpatrick says he emphasizes to his students that each of them has a talent to bring to the business world, and each should cultivate this talent.
"Everybody has a story and they are all interesting and unique," he said. "Everyone also has a gift and they should cherish that gift."
He has contributed to numerous academic journals and publications and is the recipient of many professional and college awards.
A founding member of the Institute for Behavioral and Applied Management, (IBAM), Kilpatrick has served as the IBAM management track co-chair and on the IBAM electronic publication editorial board.
An outdoor enthusiast, Kilpatrick plans to spend his free time hiking, camping and catching up on some reading. In addition, he and his wife, Marla, are planning a trip to visit Ireland and Scotland.
---
Categories: