Audrey
Writing Support Specialist
All Subject Areas
Hi! I am an English major and Theatre minor. I am in the third year of my undergraduate here at ISU. I am a writing tutor and have been for about two years now. In my spare time I like participating in the liberal arts and hanging out with friends. Looking forward to another semester of tutoring!
Brianna
Writing Support Specialist
All Subject Areas
Brianna is a current Master's candidate studying English at ISU. She earned her Honors Bachelor of Science in biology in 2021. She enjoys crafting, reading, hiking, and playing with her cat.
Caleb G.
Writing Support Specialist
All Subject Areas
My name is Caleb, I am a general writing tutor and received my Bachelors in English from ISU and I'm now working towards a Master's degree. I spent most of my childhood in Oakley, Idaho; but moved to Pocatello after I got out of the Air Force in 2015. I was raised on a steady diet of Stephen King and Chuck Palauniuk, but am currently working on expanding into more 'classical' style literature. I love talking about movies (horror specifically) and the few film classes I took through ISU really increased my interest in the medium as a whole.
Christian
Writing Support Specialist
All Subject Areas
Hello! I'm Christian. I'm an undergraduate student with a double major in Elementary Education and History, as well as a minor in music. Outside of school, I love music, sports, the outdoors, board games, and spending time with my family. This will be my first year tutoring at the writing center and I'm excited to meet and work with you all!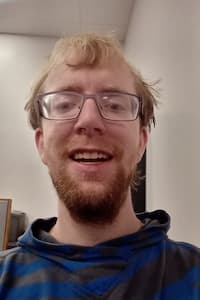 Fred
Writing Support Specialist
All Subject Areas
Fred graduated from Carroll College in 2018 with degrees in Political Science, International Relations, and Theology, with Honors and Distinction. They are currently working on an article they hope to publish, on bipolar disorder in a Catholic framework. In their free time, they enjoy reading (especially philosophy), writing, and playing board games. They are immensely excited to be returning to ISU as a writing tutor, and they are looking forward to helping students build confidence and community with writing!
Jodi
Writing and ESOL Support Specialist
All Subject Areas
Jodi has more than a decade of experience in tutoring writing. Her bachelor's degree is in history and her minor is in English. She is passionate about helping students of all levels find their voice in their writing and helping them realize their potential. She is currently working on earning a graduate degree in English/TESOL certification. In her personal life she enjoys dragging her husband to historical sites and cemeteries, going to baseball games (Go, Sox!), reading, trying out new recipes on rainy days, and spoiling her grandchildren and dogs.
Meagan
Writing Support Specialist
All Subject Areas
I am going into my senior year at Idaho State University. I am a student in the College of Education, studying Secondary Education with an endorsement in English and a Sign Language Studies minor. I plan to become a high school English teacher after my graduation in Fall of 2023. In my free time, I enjoy hiking, sewing (especially embroidery), playing video games like Pokemon, Animal Crossing, and Minecraft, reading, playing tennis, going to ISU football/basketball games, and playing board games. I am constantly running around and trying to meet new people, try new things, and get the most out of my college experience. I have been working at the Student Success Center since Fall of 2020, and this is my second semester at the Writing Center. I love working with students and cannot wait for what's to come!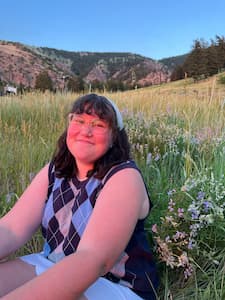 Remy
Writing Support Specialist
All Subject Areas
I'm Remy and I'm studying English Literature at ISU. I love making jewelry, playing board games, and reading in my free time. I looked forward to meeting you!
Taylor
Writing Support Specialist
All Subject Areas
Hi! I'm Taylor, a senior majoring in creative writing. In addition to joining the Writing Center team this semester, I've been the news editor for The Bengal for a year. When I'm not busy doing homework, I love reading and writing, watching an action-packed TV series, trying my hand at painting, or finding a new adventure around town.
Trent
Writing Support Specialist
All Subject Areas
My name is Trent, I am a Master's student studying Clinical Mental Health Counseling here at ISU. I earned my Bachelor of Science in Psychology from Lewis-Clark State College. In my free time I enjoy playing racquetball, hiking, and gaming.