Program and Admission Requirements
The Master of Education in Educational Administration is designed to strengthen a candidate's knowledge, skills, and dispositions in the Core Standards for Advanced Professionals and Idaho State University Department of Educational Leadership Standards for Educational Leaders (which parallel the Idaho standards for school principals).
Admissions requirements and procedures are detailed on:
The Graduate School graduate catalog
Admission Information:
Meet the ISU Graduate School admission requirements
Hold a Bachelor's degree in education or a related field from a regionally accredited institution
Have a minimum of 3.0 GPA in upper division undergraduate coursework
Have at least one year of K-12 teaching experience or equivalent documented experience
Submit a letter of interest, stating why the applicant is interested in the M.Ed. in Educational Administration
Submit a current resume, including names of and contact information for at least 2 professional references
This M.ED. requires a minimum of 31 credits:
9 credits in "core" professional studies courses
18 credits in Educational Administration emphasis courses
3 credits of internship
1 credit of case study
Candidates who already have a master's degree in an education-related field may choose to complete just the requirements for the State of Idaho endorsement for principals IF the master's degree included the core professional studies courses. The endorsement requires a minimum of 22 credits:
18 credits in Educational Administration emphasis courses
3 credits of internship (minimum)
1 credit of case study
Career Opportunities
Public School Principal
Private School Principal
State Departments of Education
Alternative School Principal
School Capacity Building
Charter School Principal
Textbook Consultant
Education Policy Consultant
Central Office Administrator
Required Courses
Core Professional Studies Courses (9 credits)
EDUC 6601 Research and Writing 3 credits
EDUC 6602 Theories of Learning 3 credits
EDUC 6610 Applied Educational Statistics 3 credits
Educational Administration Emphasis Courses (18 credits)
EDLA 6608 Organizational Leadership and Education Administration 3 credits
EDLA 6609 Principalship 3 credits
EDLA 6612 School Law, Governance, and Ethics 3 credits
EDLA 6614 Curriculum, Instruction, and Assessment 3 credits
EDLA 6615 Supervision and Instructional Leadership 3 credits
EDLA 6642 School Culture and Community Relations 3 credits
Internship (3 credits)
EDLA 6657 Internship 3 credits
The candidate may begin the 260-hour internship once he or she completes two of the three following courses: EDLA 6608, EDLA 6612, and/or EDLA 6615. The internship usually takes more than one semester to complete. The internship must include a minimum of 60 hours at each of the elementary, middle or junior high, and high school levels. The candidate must register for 2 credits the first semester of internship and at least 1 credit in each additional semester (including summers) for continuous enrollment until the internship is complete.
Case Study (1 credit)
EDLA 6651 Case Analysis in Education 1 credit
The candidate must complete all coursework prior to enrolling in the Case Study or must be registered in the last required courses during the semester of the Case Study. The candidate must have completed a significant number of internship hours and turned in the required reports to the Internship Coordinator prior to getting permission from the Internship Coordinator to enroll in the Case Study.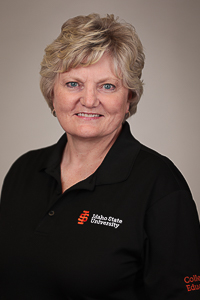 Dr. Patti Mortensen
Professor of Practice
Office: College of Education 377