Higher Education Administrator Ed.D.
Do you aspire to a leadership role advancing higher education organizations? Step into a career of leading coalitions and building relationships to develop the potential of education organizations as a Higher Education Administrator. Direct strategic planning, guide change strategies, forecast pathways, and make decisions that well-position a learning organization. Guide higher education curriculum, faculty research, and student services in an exciting and growing, high-paying field. Become a Higher Education Administrator!
The Doctor of Education (Ed.D.) is the highest university degree awarded in recognition of academic preparation for professional practice in Educational Leadership. While research is an important component of the Doctor of Education program, candidates are provided with coursed and experiences to prepare them to be effective practitioners and leaders in higher education and related fields.
Admissions requirements and procedures are detailed on the Idaho State University Graduate School website.
Educational Leadership, Higher Education Administration Concentration, Ed.D.
Preparing professional educators for leadership and administration in schools and higher education:
Kole-McGuffey Award Recipient to Dr. Rachel Hulse
The Peter C. Kole - William H. McGuffey Prize for Excellence in Educational Research is the most prestigious award that is bestowed by the College of Education, specifically for doctoral students. This year, the Graduate Committee selected Dr. Rachel Hulse as the 2020 Kole-McGuffey Award Recipient.
Hulse received her Doctorate of Education in Educational Leadership with a concentration on Higher Education Administration in 2019. She is currently the Program Director and Assistant Professor in the Medical Laboratory Science Program at Idaho State University.
With a background in Medical Laboratory Science and Higher Education Administration, Hulse wanted to focus her dissertation on an area where she could combine these two diverse skill sets to make a unique but also meaningful contribution to something that really plagues higher education. Her dissertation is titled, "Assessing Clinical Factor Contributions to Idaho's Higher Education Crises."
"It is well known that the freshman year is a critical year, with the majority of attrition happening in the first year of college. This is particularly true in the state of Idaho with only one out of 10 high school graduates completing a higher education degree. Decades of retention studies have driven retention theory and practice, yet it remains a pervasive issue across the country," she said. " My project was an interdisciplinary approach that looked at the clinical biological, and mental health of Idaho freshman to determine if health played a larger role in attrition choices. And what I found was strong biological evidence that supports that Idaho higher education freshman's physical and mental health really is declining at alarming rates, and this decline is correlated to decreases in academic success. Ideally, this information can be used to identify novel ways to approach, monitor, and shape future retention strategies across, not only in Idaho but across the country."
Hulse hopes that this award will draw attention to the importance of her research and stimulate meaningful advances in higher education retention strategies, as well as stimulate other novel interdisciplinary approaches to critical issues that we face in higher education.
"First, I would like to thank Peter and Nancy Kole for this tremendous opportunity, and for their generosity in supporting research excellence in the College of Education. I am deeply honored and grateful to be a Kole-MuGuffey award recipient. To me, this award signals a dedication to continue in meaningful educational research and a personal pledge to make a positive difference in the field of higher education," she said.
When asked about her experience with the College of Education and the Educational Leadership program, HHulse mentioned the importance of flexibility.
"I think that it is worth noting the Doctorate of Education in Higher Education Leadership along with several other graduate degrees in the College of Education is designed with the working student in mind. Almost the entire cohort of students I associated with were full-time working professionals. Programs are designed to allow you to work and obtain your degree. That flexibility is so badly needed, I would not have been able to obtain my doctoral degree without it."
In addition to the flexibility of the program, she has been able to build friendships and collaborate with other professionals on campus as well as improve her leadership skills, allowing her to advance in the field of higher education.
"These relationships with both my fellow students and the COE faculty have been priceless as I continue to navigate my roles and duties here at Idaho State," she said.
Hulse will be recognized formally during the College of Education's Celebrating Excellence event scheduled for spring 2021. Her advice for fellow students is simple.
"Lift where you stand. Every student comes to ISU with unique perspectives, talents, and life experiences. With that, I would encourage students to find ways to contribute in their own unique and invaluable ways to strengthen and improve whatever situation they may find themselves in. Additionally, I would also encourage students to not give up on their educational pursuits. Life throws curveballs, but there is always a way to make your educational dreams a reality. ISU is such a supportive environment, and there are so many faculty, staff, and supportive services available to them."
Required Courses (61 credits)
Doctoral Core Courses (18 credits)
EDLP 7700 Change Strategies 3 credits
EDLP 7703 Leadership & Organizational Development 3 credits
EDLP 7705 Advanced Research Design – Qualitative 3 credits
EDLP 7706 Advanced Research Design – Quantitative 3 credits
EDLP 7721 OR 7722 Intermediate OR Advanced Education Statistics 3 credits
EDLP 8800 Doctoral Seminar 1 credit
EDLP 8801 Capstone Seminar 1 credit
EDLP 8830 Doctoral Comprehensive Exams 1 credit
Higher Education Administration Emphasis Courses (24 credits)
EDLH 7730 History and Philosophy of Higher Education 3 credits
EDLH 7731 Law in Higher Education 3 credits
EDLH 7732 College & University Curriculum 3 credits
EDLH 7733 Finance in Higher Education 3 credits
EDLH 7734 Issues/Trends in Higher Education 3 credits
EDLH 7736 Instructional Leadership & Faculty Affairs in Higher Ed 3 credits
EDLH 7737 Practicum 3 credits
EDLH 7738 Assessment & Accountability in Higher Education 3 credits
Electives (3 credits) must be from the list below or in consultation with the student's advisor
COUN 6680 Foundations of Student Affairs 3 credits
EDLH 7735 Government and External Relations 3 credits
EDLC 7730 The Modern Community College 3 credits
EDLH 7739 Higher Ed Leadership: Strategic & Enrollment Planning, Governance, and Institutional Research 3 credits
Cognate Courses (9 credits)
Cognate (minimum 9 graduate-level credit (500 or above); may include courses taken as part of a previous graduate degree; the cognate and the courses that are to comprise the cognate are to be determined prior to cognate study enrollment in consultation with the candidate's advisor and confirmed by emphasis area faculty).
Dissertation (minimum of 10 credits)
EDLP 8850 Dissertation 10 credits
Program and Admission Requirements
December 1, 2021
The Higher Education Ed.D. program is currently at enrollment capacity.
Applications for the higher education program will be accepted and considered for Fall semester 2022. Applications are due April 1, 2022.
---
Minimum Requirements for Admission:
Meet the ISU Graduate School admissions requirements
Hold a Master's degree in educational administration or a related field from a regionally accredited institution
Have a minimum of 3.5 GPA at the graduate level
Submit a letter of interest, stating why the applicant is interested in the Ed.D. with an emphasis in Higher Education Administration
Submit a current resume, including the names of and contact information for at least 2 professional references
Successful complete an interview with faculty in the Higher Education Administration emphasis
Successful performance on an on-site writing sample completed in conjunction with the interview
The ED.D. in Educational Leadership (Higher Education) requires a minimum of 64 credits:
18 credits in the doctoral core
24 credits in the area of emphasis
3 credits of elective coursework
9 credits of cognate courses (500 level or above)
10 dissertation credits
Comprehensive Examinations
Candidates are required to take written comprehensive examinations over the Doctoral Core and may take written comprehensive exams over the K-12 School Educational Administration emphasis. Successful completion of the EDLA 7751: Case Study (required for the Ed.S.) may be used as an alternative to the Educational Administration emphasis comprehensive exams. Comps are normally written during or immediately following the last semester in which the candidate takes formal coursework. Procedures for comps are explained in the EDLP 8801 Capstone Seminar.
Continuous Enrollment
Candidates are required to maintain continuous enrollment, including during summers, throughout the Ed.D. program.
Career Opportunities
Higher Education Student Services
Higher Education Student Life
Higher Education Academics Oversight
Higher Education Enrollment Director
Higher Education Admissions
Higher Education Administrator
Higher Education Office of Registrar
Higher Education Recruitment Director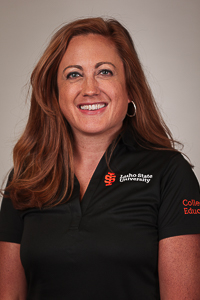 Brooke Bolinger
Director of Graduate Studies, College of Education
Office: College of Education 232