Educational Leadership M.Ed.
Gaining a Master of Education in Educational Leadership prepares one to assume an initial leadership role in a post-secondary setting. Prepare to be an effective post-secondary leader with the Master of Education in Educational Leadership. Lead faculty, staff, and students to accomplish academic and student success goals. Create positive interactions among students, faculty, staff, and other educational constituents. Consider a career as Educational Leader with an M.Ed. in Educational Leadership – it may be just right for you!
Educational Leadership, M.Ed.
Preparing professional educators for leadership in post-secondary settings
Career Opportunities
Department Chair
Student Services Coordinator
Education Policy Consultant
Entry to Doctorate in Higher Education Administration
Program and Admission Requirements
The Master of Education in Educational Leadership is designed to help students develop the knowledge, skills, and dispositions necessary to engage in more effective leadership practice.
Admissions requirements and procedures are detailed on
The ISU Graduate School website
The Graduate School graduate catalog
Admission Information:
Meet the ISU Graduate School & SPEL program admission requirements
Hold a Bachelor's degree in education or a related field from a regionally accredited institution
Have a minimum of 3.0 GPA in upper division undergraduate coursework
Have at least one year of professional experience
Submit a letter of interest, stating why the applicant is interested in the M.Ed. in Educational Leadership
Submit a current resume, including names of and contact information for at least 2 professional references
This M.ED. requires a minimum of 31 credits:
9 credits in "core" professional studies courses
18 credits in Educational Leadership emphasis courses
3 credits of internship
1 credit of case study
Core Professional Studies Courses (9 credits)
EDUC 6601 Research and Writing 3 credits
EDUC 6610 Applied Educational Statistics 3 credits
OLP 6621 Theories of Adult Learning 3 credits
General Leadership Studies (18 credits)
EDLA 6608 Organizational Leadership and Education Administration 3 credits
EDLA 6612 Education Law, Governance, and Ethics 3 credits
EDLA 6649 Issues in Education Administration 3 credits
EDLA 7721 Education Policy and Governance 3 credits
EDLA 7723 Education Planning and Evaluation 3 credits
EDLA 7702 Supervision and Empowerment 3 credits
Internship (3 credits)
EDLA 6657 Internship 3 credits
*Students complete 260 hours of Internship; hours determined in cooperation with the university internship coordinator, the Intern, and the cooperating administrator at the sponsoring agency.
*Minimum of 3 credits
*3 credits of initial enrollment required during the first semester of enrollment thereafter, at least 1 credit per semester of continuous enrollment until completed.
*Students must complete EDLA 6608 and EDLA 6612 as a prerequisite for admission to ELDA 6657 (Internship)
Case Study (1 credit)
EDLA 6651 Case Analysis in Education 1 credit
The candidate must complete all coursework prior to enrolling in the Case Study or must be registered in the last required courses during the semester of the Case Study. The candidate must have completed a significant number of internship hours and turned in the required reports to the Internship Coordinator prior to getting permission from the Internship Coordinator to enroll in the Case Study.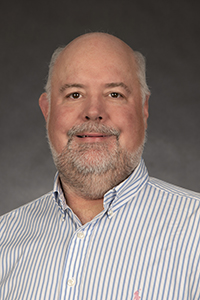 Dr. Rick Wagoner
Associate Professor of Higher Education
Office: College of Education 365
(208) 282-3358