Education Administration Ed.S.
Introducing the ED.S. Accelerated Cohort Program
Cohort start date August 2021
Graduate in 5 semesters - May 2023
30 credits | 24 core and 6 elective credits
Two 8-week courses per semester
All courses offered online using virtual technologies
Earn Idaho Superintendent Endorsement
All 30 credits can be applied toward a Doctorate (Ed.D.) in K-12 Administration
A great Superintendent responds effectively to multiple district constituencies! Prepare to be an effective School Superintendent with the Education Specialist in Education Administration. Leading administrators to accomplish goals, building relationships among the school board, teachers, students, parents, staff, and the community toward increased student achievement is the multi-faceted challenge of a Superintendent as an Education Administrator. The Education Specialist in Education Administration aligns with the Council for the Accreditation of Educator Preparation standards. If you are guided by the best path for students, you have the heart of a great Superintendent!
Educational Leadership, Education Administration Concentration, Ed.S.
Preparing professional educators for leadership and administration in school districts
Educational Leadership Course Rotation
Career Opportunities
Public School Superintendent
Central Office Administrator
State Departments of Education
Agency or Council Consultant
School Capacity Building
Textbook Consultant
Education Policy Consultant
Program and Admission Requirements
The Ed.S. in Educational Administration requires a minimum of 30 credits:
21 credits in Educational Administration emphasis courses
3 credits of practicum
6 credits of electives
A candidate with a master's degree in an area other than educational administration may be required to take additional coursework equivalent to that required in the administration degree and must meet initial Idaho administrative certification requirements.
Required Courses (30 credits)
Educational Administration Emphasis Courses (21 credits)
EDLA 6643 School Personnel Administration 3 credits
EDLA 6662 Superintendency 3 credits
EDLA 6664 Public School Monetary and Business Policy 3 credits
EDLA 7720 Legal and Ethical issues in Education Organizations 3 credits
EDLA 7721 Educational Policy and Governance 3 credits
EDLA 7723 Educational Planning and Evaluation 3 credits
EDLA 7724 Data-Informed Instructional Leadership 3 credits
Electives (6 credits)
Candidates take six credits of elective graduate courses to meet their needs and background. Candidates are encouraged to take doctoral core courses to fulfill the required electives.
Practicum (3 credits)
EDLA 6637 Practicum 3 credits
The candidate may begin the 160-hour practicum once he or she completes 6 credit hours of program emphasis courses. The practicum, which takes place in at least one school district central office, usually takes more than one semester to complete. The candidate must register for 3 credits in the first semester of practicum and at least 1 credit in each additional semester (including summers) for continuous enrollment until the practicum is complete.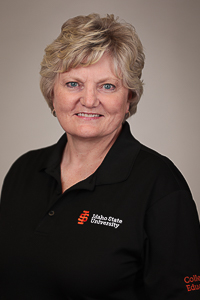 Dr. Patti Mortensen
Professor of Practice
Office: College of Education 377