Faculty and Staff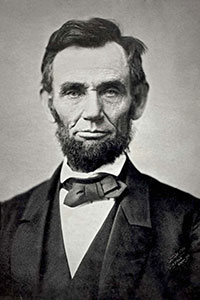 Abraham Lincoln
16th President of the United States
Office: Oval Office
(208)-555-1234
Vice Presidents:
Hannibal Hamlin (1861–1865)
Andrew Johnson (1865)
Abraham Lincoln was born February 12, 1809, the second child of Thomas and Nancy Hanks Lincoln, in a one-room log cabin on the Sinking Spring Farm in Hardin County, Kentucky (now LaRue County). He was a descendant of Samuel Lincoln, who migrated from Norfolk, England to Hingham, Massachusetts, in 1638. Samuel's grandson and great-grandson began the family's western migration, which passed through New Jersey, Pennsylvania, and Virginia. Lincoln's paternal grandfather and namesake, Captain Abraham Lincoln, moved the family from Virginia to Jefferson County, Kentucky in the 1780s. Captain Lincoln was killed in an Indian raid in 1786. His children, including six-year-old Thomas, the future president's father, witnessed the attack. After his father's murder, Thomas was left to make his own way on the frontier, working at odd jobs in Kentucky and in Tennessee, before settling with members of his family in Hardin County, Kentucky, in the early 1800s.
Queen Victoria
Queen of the United Kingdom
Office: Kensington Palace
(208)-282-5555
Spouse: Albert of Saxe-Coburg and Gotha
According to one of her biographers, Giles St Aubyn, Victoria wrote an average of 2,500 words a day during her adult life. From July 1832 until just before her death, she kept a detailed journal, which eventually encompassed 122 volumes. After Victoria's death, her youngest daughter, Princess Beatrice, was appointed her literary executor. Beatrice transcribed and edited the diaries covering Victoria's accession onwards, and burned the originals in the process. Despite this destruction, much of the diaries still exist. In addition to Beatrice's edited copy, Lord Esher transcribed the volumes from 1832 to 1861 before Beatrice destroyed them. Part of Victoria's extensive correspondence has been published in volumes edited by A. C. Benson, Hector Bolitho, George Earle Buckle, Lord Esher, Roger Fulford, and Richard Hough among others.
Contact Us
(208) 282-3517
Administration Building 123