Sydney Mecham student winner and Dean Kathleen Kangas.
CRCS STUDENT AMBASSADOR CHALLENGE WINNER: Sydney Mecham!
During the Fall 2019 Raise the Roar campaign , Dean Kangas sent out a challenge to students of CRCS. The challenge: whomever recruited the highest number of contributors would receive a lunch for them and their classmates. Sydney Mecham, a doctoral student in the Audiology Program, was the winner and had her lunch with her classmates last Friday, February 7! Well done, Sydney!
Some of Sydney's classmates enjoying lunch.
ISU Program for Instructional Effectiveness $5,000 Teaching Innovation Grant awarded.
Congratulations to Dave Woods and Connie Miller, Speech Language Pathology Program, for being awarded the
ISU Program for Instructional Effectiveness $5,000 Teaching Innovation Grant for Spring 2020! Well done!
Their project is: Integrating a Treatment Technology into the Training of Clinical Students
Connie Miller, M.S., CCC-SLP Dave Woods, M.S. CCC-SLP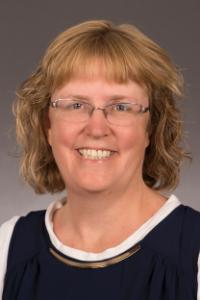 The CRCS Fall Event 2019 was a huge success! We had over 230 in attendance, and enjoyed a great keynote address by Dan Mills, a Physical Therapist and ISU Alum and the first recepient of the CRCS Professional Achievement Award! Thank you to all who made it possible!
Josh Whicker, ISU Audiology student, presented the following: Who is your Audiologist?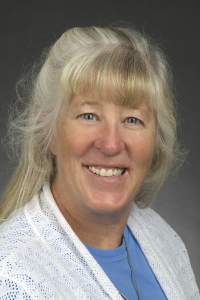 Nancy Devine, PT, DPT, MS Cindy Seiger, PT, Ph.D., GCS, CEEAA
From left, standing: Taylor Narayanan, ISU grad student; Michael Green and Tanner Gilkeson, clinic clients; and ISU grad students Kyle McIntosh and Cameron Mutchler. Front, Luis Rodriguez, ISU Ph.D. student, and ISU professors Dan Hudock and Chad Yates.
Outstanding Service Award Recepients! Well done!
Karissa Miller, MS, CCC-SLP, Speech Language Pathology
Miller has worked at ISU as an employee for the past three years and as an adjunct for six years prior to that. She is a speech-language pathologist that graduated from Idaho State University in 2007.
She has had the pleasure of working with all populations and in all settings. While she enjoys all of it, she especially enjoys working with the adult populations with disorders including traumatic brain injury, dementia and aphasia. Miller has a passion to work and teach students and to share her passion for her field and life.
Theodore W. Peterson, DrOT, MBA, OTR/L
Peterson has served in many capacities in his nearly 40-year career as an occupational therapist, functioning as a practitioner, administrator and educator in diverse settings and geographic locations.
Born and raised in Minnesota, Peterson received his occupational therapy education at the University of North Dakota, graduating in 1980, and worked as a clinician and manager of rehabilitation services in hospitals and outpatient centers in several Midwestern states. In 2008, he made the leap to academia, joining the ISU department of physical and occupational therapy where he continues to teach students of both programs.
Peterson and his wife of 38 years, Barbara, have three grown children and three grandchildren living in the Chicago and Washington, D.C. areas.
Cindy Seiger, PT, PhD, GCS, CEEAA
Seiger joined the ISU faculty in 2006 and has increased the opportunities for physical therapy students to participate in community outreach service activities. In 2014, she became the Idaho State Advocate for the Academy of Geriatric Physical Therapy.
She is involved in multiple community outreach programs focused on assisting older adults to maintain a healthy lifestyle and remain independent. She is a class leader and master trainer for the Fit and Fall Proof program, a statewide, community-based fall-prevention exercise program. For the past 11 years, Seiger has conducted a year-round exercise class at the Pocatello Senior Center and her students have recorded more than 65 episodes of the program for Local Access Television. She initiated the nationally-recognized annual "Humpty Dumpty had a Great Fall: A Falls Prevention Conference."
She also involves her doctor of physical therapy students in service learning to promote engagement in local, national and international communities.
College of Rehabilitation and Communication Sciences
Founding Commemorative Faculty photos
MERIDIAN FACULTY
Back row starting from the left
Diane Ogiela, Beth Guzi, Kris Brock, Tyler Jepson, Gabriel Bargen, Steven Stubbs, Karrie Hanson, Elizabeth Schniedewind
Front Row starting from the left
Amy Hardy, Mary Vandonsel, Kristina Blaiser, Joni Loftin, Evan Papa, Joachim (Jack) Agamba, Shauna Smith
Not available for photo: LaVona Andrew, Alycia Cummings
POCATELLO FACULTY
Front row from the left:
Robin Pierce Ament, Kathleen Kangas, Heather Ramsdell-Hudock, Nancy Devine, Derek Gerber, Mike Foley, Wendy Morgan, Debbie Vieira, Nancy Cheadle, Jill Radford
Back row from the left:
Dan Hudock, Alex Urfer, Dave Woods, James Ralphs, Trent Jackman, Chris Sanford. Bryan Gee, Connie Miller
Not available for photo:
Jeff Brockett, Deanna Dye, Jennifer Holst, Lisa Hong, Kimberly Lloyd, Karissa Miller, Theodore Peterson, Tori Scharp, Cindy Seiger, Corrie Smith, Kelly Thompson, Mary Whitaker
Grant awarded
ISU-Meridian professors Gabe Bargen, PhD, audiology, and Kristina Blaiser, PhD, speech-language pathology, received a nearly $300,000 grant to improve outcomes for children who are deaf/hard of hearing. Grant funding from the Oberkotter Foundation will help the parents of children who are deaf and hard of hearing in Idaho to better understand their child's needs at a very early age.
Congratulations to Sign Language Interpreting on their program accreditation!
ISU houses the only accredited Sign Language Interpreting program in the state of Idaho
This accreditation confirms ISU's Sign Language Interpreting program:
meets recognized national standards of interpreter education, including curriculum and highly qualified instructional faculty
has a curriculum that follows best practices and meets national standards, including a rigorous field experience
is a program striving to be the best in the education of sign language interpreters, sharing a common goal of graduating highly qualified interpreters
Accrediting body: Commission on Collegiate Interpreter Education (CCIE)
Congratulations to Kjirsten Keetch our Online Student BINGO winner! She received a $20 gift card!
208-282-3992
208-282-4645
650 Memorial Drive
Bldg 66, Room 202
Pocatello, ID
Mailing Address:
921 S 8th Ave Stop 8090
Pocatello, ID 83209-8090