Evan Papa, PT, DPT, PhD
Evan Papa, Physical Therapy Program Assistant Director, based at ISU Meridian, runs Rock Steady Boxing Program for Parkinson's Patients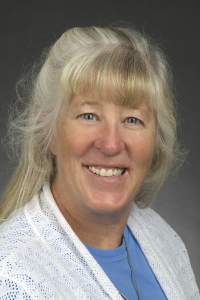 Nancy Devine, PT, DPT, MS Cindy Seiger, PT, Ph.D., GCS, CEEAA
ISU Physical Therapy Program professors and students researching the use of Virtual Reality for people with chronic hemiplegia.
From left, standing: Taylor Narayanan, ISU grad student; Michael Green and Tanner Gilkeson, clinic clients; and ISU grad students Kyle McIntosh and Cameron Mutchler. Front, Luis Rodriguez, ISU Ph.D. student, and ISU professors Dan Hudock and Chad Yates.
Grant awarded
ISU-Meridian professors Gabe Bargen, PhD, audiology, and Kristina Blaiser, PhD, speech-language pathology, received a nearly $300,000 grant to improve outcomes for children who are deaf/hard of hearing. Grant funding from the Oberkotter Foundation will help the parents of children who are deaf and hard of hearing in Idaho to better understand their child's needs at a very early age.
Congratulations to Sign Language Interpreting on their program accreditation!
ISU houses the only accredited Sign Language Interpreting program in the state of Idaho
This accreditation confirms ISU's Sign Language Interpreting program:
meets recognized national standards of interpreter education, including curriculum and highly qualified instructional faculty
has a curriculum that follows best practices and meets national standards, including a rigorous field experience
is a program striving to be the best in the education of sign language interpreters, sharing a common goal of graduating highly qualified interpreters
Accrediting body: Commission on Collegiate Interpreter Education (CCIE)