News and Events
In the News
When our motivated and innovative students combined with our dedicated and enthusiastic faculty, look out. Together they formed the Center for Tactical Athletes Program (CTAP). Who knew it would be so popular and unique. Bailey Vail, Alex Urfer, and Derek Gerber formed the practicum experience for students to help educate and train police cadets currently enrolled in the academy at ISU. The ISU DPT Program was highlighted in a CSM Presentation (2017) and subsequent PT in Motion Article regarding the Center for Tactical Athletes Program (CTAP). Read the article (pg 22) for more information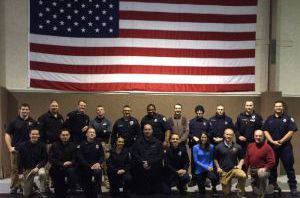 Scholarly Activity
Foley, MP, Hasson, SM, Kendall,E. Effects of a Translational Community-Based Multimodal Exercise Program on Quality of Life and the Influence of Start Delay on Physical Function and Quality of Life in Breast Cancer Survivors: A Pilot Study. Integrative Cancer Therapies, September 2017: https://doi.org/10.1177/1534735417731514
Foley, MP, Hasson. Effects of community-based multimodal exercise program on health-related physical fitness and physical function in breast cancer survivors: a pilot study. Integrative Cancer Therapies, January-March 2016: 1-9. Sage, DOI: 10.1177/1534735416639716
Papa EV, Hassan M, Bugnariu NB. The effects of performance fatigability on postural control and rehabilitation in the older patient. Curr Geri Report. 2016, 5(3), 172-178.
Dye D. Physical Therapy. Book chapter in Today's Health Professions: Working together to provide quality care. Royal PL. 2016; FA Davis; Philadelphia; ISBN: 9780803644656
Foley MP, Barnes VA, Hasson SM. Effects of a community-based multimodal exercise program on physical function and quality of life in cancer survivors: a pilot study. Physiotherapy Theory and Practice, 2015 Jul; 31(5): 303-12. DOI:10.3109/09593985.2015.1004390 PubMed PMID: 25613524
Foley M, Bowen B. Comparison of metabolic cost and cardiovascular response to stair ascending and descending with walkers and canes in older adults. Archives of Physical Medicine and Rehabilitation. 2014 Sep; 95(9):1742-9. PubMed PMID: 24755046.
Brockett J, Ralphs J, Dye D. Experiences with a transdisciplinary approach to the assessment of patients with dizziness and/or balance concerns. Perspect Hear Hear Dis: Res Diag. 2014;18(1):4 doi:10.1044/hhd18.1.4
Jackman TD, Devine JL, Seiger C. Home health physical therapy intervention for an adolescent after intramedullary skeletal kinetic distractor limb lengthening surgery: a case report. J Allied Health. 2013;42(3):163-168.
Nichols D, Seiger C. Diagnosis and treatment of a patient with bilateral thoracic outlet syndrome secondary to anterior subluxation of bilateral sternoclavicular joints: a case report. Physiother Theory Pract. 2013 Oct;29(7):562-571. doi: 10.3109/09593985.2012.757684. Epub 2013 Jan 23.
Dye D, Eakman A, Bolton K. Assessing the validity of the Dynamic Gait Index in a balance disorders clinic: An application of Rasch analysis. Physical Therapy 2013;93:809-818.
Turner F, Seiger C, Devine N. Impact of patient and caregiver transfer training provided by a physical therapist in the hospice setting: A case study. Am J Hosp Palliat Care. 2013;30(2): 204-09. doi:10.1177/1049909112444716. Epub 2012 May 2
Opportunities
If you are interested in sharing your clinical expertise, please consider the following:
Adjunct Instructors: 4 - 8 hours / week
Guest Lecturer: 1 - 4 hours
Client Volunteers: share your patient experience
Contact the DPT Program
Contact Us
(208) 282-4095
(800) 797-4781
Idaho State University
921 South 8th Avenue Stop 8045 Pocatello, ID 83209