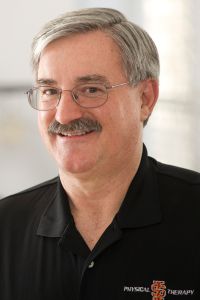 Jim Creelman, PT, DPT, MS
Professor Emeritus
Office: Garrison Hall 203
208-282-4566
Education:
BS in Naval Science, United States Naval Academy, Annapolis MD, 1971
BS in Physical Therapy, University of Maryland at Baltimore, Baltimore MD, 1982
MS in Experimental Psychology, Idaho State University, Pocatello, ID, 1996
DPT in Physical Therapy, University of St Augustine, St Augustine, FL, 2004
Professional / Research Areas of Interest:
Motor point mapping, EMG analysis, Instructional technology, posture analysis
Current Teaching
PTOT6623/6643: Physical Agents
PTOT6621/6641: Manual Evaluation and Treatment
PTOT6618/6619: Clinical Practicum
PTOT 6616: Capstone
Biographical Sketch
After working for several years as a clinical PT (primarily in outpatient orthopedics), Dr. Creelman joined the ISU PT program in 1990, its second year of existence. He has since that time taught mainly in the content areas of orthopedic and musculoskeletal PT, manual physical therapy and physical agents. He was board certified for 20 years, beginning 1994, as a specialist in Orthopedic Physical Therapy by the ABPTS. His research efforts have primarily involved analysis of a variety of movements and muscle activities using surface electromyography (sEMG), still photos and video. In 2010 Dr. Creelman assumed the dual roles of DPT Program Director and PTOT Department Chair.
While he was in the Navy, he flew as a Radar Intercept Officer (RIO) in the F-4J Phantom II as a member of Fighter Squadron One Five Four (VF-154), mostly from the aircraft carrier USS Ranger (CV-61) in the Western Pacific and off the coast of California. He is a Viet Nam veteran, having served briefly off the Viet Nam coast in 1970 as a midshipman aboard the fleet oiler USS Ponchatoula (AO-48). He served in the Atlantic Ocean and the Mediterranean Sea as a junior officer aboard the USS Rigel (AF-58) and attended flight training at NAS Pensacola, FL, NAS Glynco, GA and NAS Miramar, CA. He also served as a staff officer on the staff of Commander Fleet Air, Western Pacific (COMFAIRWESTPAC) in the Naval Air Logistics Control Office, Western Pacific (NALCOWESTPAC) at NAS Atsugi, Japan.
Personal Interests/Hobbies:
Hiking, reading, collecting and playing guitars
Contact Us
(208) 373-1733
(800) 797-4781
Idaho State University
921 South 8th Avenue Stop 8045
Pocatello, ID 83209