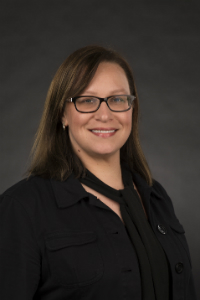 Michele R. Brumley, Ph.D.
Associate Professor, Experimental Psychology - Department Chair
208-282-4751
B.A (1999) DePaul University; Ph.D. (2005)
University of Iowa; Postdoctoral Fellow
(2005-2007) The Miami Project to Cure Paralysis, University of Miami Miller School of Medicine.
Research Interests
My research program examines the development of coordinated action during early ontogeny. This work involves experimental investigation of the role of neurobiological mechanisms, sensory feedback, and experience in the modulation of motor behavior. Currently, my lab is examining 1.) how locomotor behavior in the rat is controlled by the spinal cord and is shaped by sensorimotor experience, 2.) the relationship between the development of weight-bearing locomotion and development of the musculoskeletal system in rats, 3.) the relationship between the development of locomotor behavior and epigenetic activity in the spinal cord in rats, and 4.) how posture and locomotion development in human infants relates to development in other domains (language development, socioemotional development) in the context of mother-infant reciprocity. My research has been funded by the NIH, NIH INBRE (Idaho Network for Biomedical Research Excellence) Program of the National Center for Research Resources, NSF WeLEAD, and internal grants from ISU. I am currently the Editor-in-Chief of the journal Developmental Psychobiology.
Dr. Michele Brumley's Research on ResearchGate
Selected Publications
Brumley, M.R., Guertin, P.A., & Taccola, G. (2017). Multilevel Analysis of Locomotion in Immature Preparations Suggests Innovative Strategies to Reactivate Stepping after Spinal Cord Injury. Current Pharmaceutical Design, 23, 1764-1777.

Swann, H.E., Kauer, S.D., Allmond, J.T., & Brumley, M.R. (2017). Stimulation of 5-HT2A Receptors Recovers Sensory Responsiveness in Acute Spinal Neonatal Rats. Behavioral Neuroscience, 131, 92-98.

Gee, B.M., Devine, N., Aubuchon-Endsley, N., Brumley, M.R., Ramsdell-Hudock, H.L., & Swann, H.E. (2017) The Reciprocity Team: Development of an Interprofessional Research Collaboration. Journal of Allied Health, 46, e43-e49.

Kauer, S.D., Allmond, J.T., Belnap, S.C., & Brumley, M.R. (2016). Maternal behavior influences development of a reflexive action pattern in the newborn rat. Developmental Psychobiology, 58, 1043-1054.

Swann, H.E., Kempe, R.B., Van Orden, A.M. & Brumley, M.R. (2016). Serotonergic activiation of locomotor behavior and posture in one-day old rats. Behavioural Brain Research, 302, 104-114.

Mendez-Gallardo, V., Roberto, M.E., Kauer, S.D., & Brumley, M.R. (2016).Posture effects on spontaneous limb movements, alternated stepping, and the leg extension response in neonatal rats. Physiology & Behavior, 155, 122-130.
Brumley, M.R. & Robinson, S.R. (2010). Experience in the perinatal development of action systems. In Blumberg, M.S., Freeman, J.H. & Robinson, S.R. (Eds.), Oxford Handbook of Developmental Behavioral Neuroscience (pp. 181-209). New York: Oxford University Press. B&R 2010.pdf
Contact Us
208-282-2462
208-282-4832
Department of Psychology
921 S 8th Ave, Stop 8112
Pocatello ID 83209
Psychology Dept, 4th Floor
Psychology Clinic, 5th Floor
Psychology Clinic
(208) 282-2129
(208) 282-5411
Psychology Clinic
921 S 8th Ave, Stop 8021
Pocatello, ID 83209
Physical/Walk-in Address:
1400 E Terry
Garrison Hall
Building 63
5th Floor
Reception Rm 533